Green Materials: LG Chem produces transparent ABS from recycled MMA; Sumitomo Chemical to build pilot recycling facility for PMMA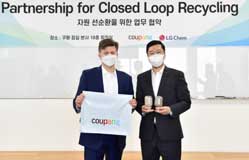 South Korea's LG Chemhas tied up with Veolia R&E , South Korea's largest recycled MMA producer that has patented technology for recovering MMA, to produce transparent ABS, through pyrolysis of waste material.
MMA, the core raw material of transparent ABS, is a colourless and transparent liquid compound and is widely used as raw material in various industries such as automotive, home appliances, IT devices and building materials such as artificial marble.
Veolia R&E is a subsidiary of France's Veolia Group, the world's largest environmental service company (water treatment, waste, and energy). It is a domestic resource recovery company that developed the world's first technology to pyrolyse waste artificial marble and recycle it into MMA in 2010. It has the technology to separate, refine, and recover MMA, a volatile substance, through pyrolysis using powder or waste materials that are created when processing the surface of artificial marble.
Expansions: Penn Color to explore Asian opportunities; Röhm to build 25 k/tonne MMA plant on US Gulf Coast
Through this MOU, LG Chem says it will secure an opportunity to commercialise low-carbon transparent ABS based on chemically recycled MMA, while also being able to actively cooperate with Veolia R&E for process technology enhancement and R&D to improve the quality of recycled MMA.
Although the specific quantity and cooperation period cannot be disclosed in accordance with the MOU between the two companies, LG Chem adds it is expected to be able to receive a stable supply of recycled MMA required for transparent ABS production for the next several years. The two companies plan to discuss various ways of cooperation on the recycling MMA business in the future.

In other news, Japan's Sumitomo Chemical has decided to construct a pilot facility for chemical recycling of acrylic resin (PMMA, poly-methyl-methacrylate) at its Ehime Works in Niihama City, Ehime Prefecture, Japan. The new facility is scheduled to begin pilot tests in the fall of 2022 andcto start providing samples in 2023. In parallel with this project, the company says it will work to develop a recycling system for PMMA, from collection of used acrylic resin to recycling and reprocessing into products, aiming for early commercialisation of chemically recycled PMMA.
Acrylic resins, which possess the highest level of transparency among synthetic resins as well as superior weatherability and processability, are used in a wide range of applications, such as automotive tail lamp covers, electrical appliances, aquariums, outdoor signboards, liquid crystal displays, building materials, and protective partition panels to reduce the spread of droplets. Global demand for acrylic resins exceeded 1.3 million tonnes in 2020, and is expected to continue to grow steadily in the future.
In response to ever-growing environmental awareness, Sumitomo Chemical is working on the development of various chemical recycling technologies in-house as well as in collaboration with other companies and academic institutions.
For acrylic resin chemical recycling, the company has been pursuing development in collaboration with machine maker JSW, combining JSW's continuous plastic decomposition technology using twin-screw extruders with Sumitomo Chemical's expertise on MMA (methyl methacrylate) monomers and acrylic resins that it has cultivated over the years.
With its own basic technology to pyrolyse acrylic resin and regenerate it as MMA monomer, which is used as a raw material, now successfully established, Sumitomo Chemical has decided to construct a pilot facility. The acrylic resin produced by re-polymerising MMA monomer obtained by this technology is expected to reduce greenhouse gas emissions over the entire product life cycle by more than 60% compared to virgin materials produced from fossil resources, while maintaining the same level of basic properties, such as transparency and strength.
The used acrylic resin to be used as a raw material in this pilot test will be sourced from Nippura, which boasts the world's top share in the production of large acrylic panels for aquariums and has been a partner of Sumitomo Chemical for about 50 years. In order to commercialise chemically-recycled PMMA, Sumitomo Chemical will also begin to study the development of a stable raw material procurement system, including the collection of used acrylic resin from scrapped automobiles, electrical appliances, and protective partition panels.
The recycled MMA monomer and the acrylic resin made from it are expected to be used in fields and products in which the added value of recycled materials is recognized, such as automobiles, where environmental regulations are being tightened, and road sound barriers for public highways.
(PRA)
---
Subscribe to Get the Latest Updates from PRA Please click here
©2021 Plastics and Rubber Asia. All rights reserved.

©2020 Plastics and Rubber Asia. All rights reserved.
Home
Terms & Conditions
Privacy Policy
Webmail
Site Map
About Us
SOCIAL MEDIA