European plastic packaging associations jointly tackle environmental issues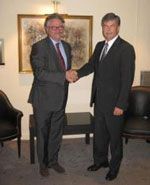 European plastic packaging associations have met up to discuss several vital keypoints relating to the environment as well as economic situation for the industry.
Led by chairpersons, Roland Roth of the German Packaging Association (IK), and CEO of RKW SE, and Dominique-Paul Vallée of the French Plastic and Flexible Packaging Association (ELIPSO) and Senior Executive of BERICAP Group went over several economical and environmental challenging issues that face the European plastic packaging industry, particularly in France and Germany.
The European Commission's Green Paper on Plastic Waste and the polymer sourcing for the European Plastic Packaging Industry have been two focal issues discussed.
Both associations raised their concerns on specific points on the Green Paper and seek to come up with constructive proposals, adding that sustainability is high on theirs as well as their member companies' agenda as gleaned from their eco design, source reduction, energy saving, and recycling that are now integrated parts of the innovation process.
They said that they are promoting the use of LCAs (Life Cycle Analyses) as the tool for monitoring efficiently environmental impacts.
The European plastic packaging industry, the member companies of both associations in Germany and France account for more than 6.5 million tonnes of polymers use and degradation of the supply situation within the European polymer manufacturing industry, such as too high volatility of prices, too high dependence from the naphtha supply situation and price, aging polymer production tools, frequent production stops and "forces majeures" for production breakdowns and emergency maintenances, insufficient investments are viewed with concern.
Innovation in plastic raw materials remains a necessity in order to address the requests of the downstream market for improved competitive solutions and reduced environmental impacts, they said, adding that a robust sourcing of polymers in correct quantities, quality and prices is the key for the European Plastic Packaging Industry in order to keep it competitive and to continue to propose good economical, technical and environmentally friendly solutions to the downstream market of the European packers.
Innovations and pro-activity are still the main drivers for the European Plastic Packaging Industry , said the associations.
(PRA)