Achieving weight savings with Victrex PEEK HMF polymer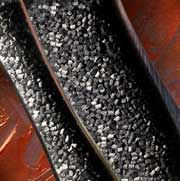 As global trends continue to focus on removing weight for fuel efficiency purposes, lean manufacturing, and greater reliability, design engineers are looking for proven plastic materials that can perform with the same assurance as traditional metals. For more than 30 years, standard Victrex Peek unfilled, carbon fibre and glass fibre polymers have proven success in removing excess weight in aircraft and industrial equipment, The inclusion of high-modulus fibres (HMF) into high-flow Victrex Peek materials offers the strength and stiffness that have given engineers the confidence to displace metals such as steel, aluminum, titanium, brass and magnesium in aircraft system attachments, industrial machinery, and semiconductor and medical equipment.
Unique to the Victrex product portfolio, Victrex Peek HMF polymers are based on the 90-series formulation which has primarily been used to mould tough, thin-wall parts. "Lightweight thermoplastics such as Victrex Peek HMF polymers not only can help engineers reduce component weight by up to 80% when compared to metals like steel and brass, but offer an equivalent stiffness and strength proving that our materials are just as capable as the metals they are replacing," explained Stephen Dougherty, Strategic Marketing Manager. "These weight reductions and mechanical properties can potentially lead to efficiencies that were not attainable in the past," he said.
For instance, converting aluminum brackets, clips, fasteners and other secondary structures to Victrex Peek HMF polymers can help reduce the lifetime costs of an airplane. According to current fuel prices, removing 100 lbs (45 kgs) of weight can save airlines up to US$4,500 in annual fuel costs per aircraft. Besides fuel savings, accurate and speedy assembly is crucial to aerospace engineers. The ability to consolidate parts with highly functional designs can make installation much easier and is often not possible with metals. Due to faster crystallization and a smoother melt flow, the 90-series HMF grades can also help shorten cycle times and reduce production costs because of the efficiencies gained through the injection molding process. These benefits help the entire supply chain by getting lighter, easily installable parts to manufacturers faster, ultimately leading to more fuel efficient airplanes getting off the assembly line quicker.
In addition, as service expectations increase for airplanes and industrial equipment, the specification of materials is critical to ensure safe and reliable operation with minimal maintenance required. Victrex Peek HMF polymers have been tested in a range of chemicals including: hydraulic fluid, jet fuel, oil, grease, lubricants and other service fluids. These are environments that would undermine the longevity of many other metals and plastics. In combination with excellent fatigue performance and a long term use temperature of 260 degrees C (500 degrees F), Victrex Peek HMF polymers have been used as a reliable metal replacement solution for applications found in some of the harshest environments.
(PRA)