BMS's PU infusion resins rotor blades to improve wind turbines efficiency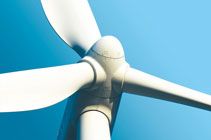 The Bayer MaterialScience (BMS) has recently disclosed result of a project performed by the new wind power competence centre located in the Danish city of Otterup.
According to the centre, polyurethane (PU) infusion resins are suitable for the industrial manufacture of complete rotor blades for wind turbines.
In the manufacture of the blades the resins are combined with fibres in a mould and form a very strong material composite. The finished rotor blades are sturdier, longer-lasting and more lightweight than those commonly produced with the epoxy resins and unsaturated polyesters
The most important advantage is the greater process and cost efficiency. As PU resins are more free-flowing than conventional materials, they spread better in the mould and can be processed more quickly. They also harden faster and under simplified conditions. BMS is confident that automated manufacture of rotor blades with robots will also be possible.
Whilst the cost for the rotor blades takes up almost a quarter of the total cost for the wind turbine, reducing these costs is therefore a key driver in wind power development.
"The use of polyurethane resins could reduce the cycle time per blade from 16 to 24 hours currently to seven to eight hours, thus significantly increasing productivity. We are working to cut the cycle time still further," said Kim Harnow Klausen, head of the BMS global wind power competence centre.
After the production of a prototype blade in Asia, the company focuses on achieving the blade sizes common today.
(PRA)