Davis-Standard to expand its global advantage to Asia
With 30% of its business coming from Asia Pacific, it is no surprise that extrusion and converting technology systems manufacturer Davis-Standard is honing into the region, by expanding its manufacturing footprint capabilities and after sales market.
Last year, the company set up a 4,300 sq m facility in Suzhou, China, to offer sales, technical support and aftermarket service. "We will add on research capabilities by the end of this year," said Fred Pereira, President of the Asia Pacific operations.
In aftermarket service, Davis-Standard will utilise the technologies of Circonix, a company it purchased last year. It specialises in drive and control system retrofits for converting and extrusion equipment.
"Acquiring Circonix extends Davis-Standard's capabilities and supports its ability to upgrade PLC, drive and mechanical systems on thousands of existing installations worldwide, including non-Davis-Standard brands," said Pereira.
To reduce time to market, the firm will also stock up parts at the Suzhou facility, which is primarily a service centre, and also upgrade it to offer retrofitting services. And while Suzhou is only manufacturing components at the moment, the firm intends to start producing its Super Blue and Euro Blue extruders by the end of 2013, according to Pereira.

The firm also intends to double its business in Asia Pacific, by expanding its work force in China and launching new products. It recently incorporated employees from Taiwan-headquartered Lamex Trading, an engineering trading company specialising in extrusion that has represented Davis-Standard in China for 11 years.
Furthermore, Pereira said the firm is pouring investments into its "global entity transformation" process. "A part of the transformation is in China since it has the fastest growth in the world."
Said President/CEO Bob Preston, at a press conference a day before Chinaplas, "We expect to transform every aspect of the company to drive productivity and differentiate it from the competition. We already have a large global base with 40,000 installations, six facilities, three R&D centres, 14 sales offices and sales of over US$300 million." He went on to say, "The bottom line is that we want to have a global advantage."
Diverse product range; packaging a targeted market What sets Davis-Standard apart is its range of product offerings. "We have ten diverse converting platforms. No other company offers this," Preston explained, adding that in the US, the firm is known as a "one-stop shop".
Around 48% of its portfolio addresses the packaging sector, followed by pipes/profiles (12%), medical (8%), green markets for solar energy (10%) and automotive (4%).
According to Bob Florence, Executive Vice- President of Global Sales and Marketing, the firm is a leader in aseptic packaging lines, with China being its largest market.
At Chinaplas, the company showcased its new dsX flex-pack extrusion coating line, a preengineered line that can be delivered in six months. Said Florence, "The packaging market is large and we want to cover all aspects. We're primarily a custom machine builder for the high end market but our strategy is to move to the lower end of the market. We will do this by standardising our technology." The dsX flex-pack includes an unwinder; corona treaters; extrusion laminator; gravure primer coater dryer; pull roll with nip; winder; electrically heated, air-cooled Davis-Standard extruder with advanced feedscrew design; downstream, carriage and Siemens drives and controls.
Advanced computer technology includes DS APC (automatic profile control) and a DS5 computer to allow for remote access for troubleshooting and updating over a secure internet connection.
"It is competitively priced with a fast ROI, on average within six months," claimed Florence. And while the line is currently designed and built in Germany, the intention is to build it in Suzhou by 2014, for the Asian market. The firm is already looking ahead. "We will double the size of the Suzhou facility by 2014, or find another facility," said Preston.
Compact medical line
Along the lines of offering a machine that suits the local needs, Davis-Standard also introduced the dsX medical tubing line, designed to produce single/multi-layer IV drips, catheter tubes and fluid delivery systems. Said Preston, "The Chinese healthcare sector is upgrading and processors are buying more high tech lines now. It is a fragmented market with lots of small players who are not looking for large machines."
The compact medical tubing line offers a smaller footprint for clean rooms. It also features a language-specific control system.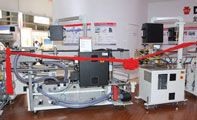 The line's co-extruders are engineered to provide processing versatility and value, enabling processors to use materials ranging from PP to fluorinated ethylene polypropylene (FEP) with a simple feedscrew change, says the firm. It also includes a melt pump on each extruder for processing thermoplastic polyurethanes (TPUs), nylons and other medical grade resins.
The line is displayed at Davis-Standard's Suzhou facility, to allow customers to run trials. Davis- Standard also offers a medical tubing R&D line at its technical centre in the US.
(PRA)