India's newest blow moulding machine maker sets up factory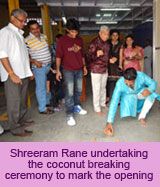 Mumbai-based Smart Machineries and Moulds (SMML) has opened an extrusion blow moulding facility in Vasai, Thane district the outskirts of Mumbai. It will manufacture all sizes of EBMs, including single and double station machines. Initially, the annual capacity is projected to be approximately 24 to 36 machines, with the firm already planning to double it in the current year. The new facility is strategically located near Smart customer's manufacturing facilities in Western India, and near the coast line of the Arabian Sea, which will facilitate the shipment of machines for faster delivery.
Shreeram Rane, Managing Director for SMML, said, "This plant will be dedicated to providing innovative solutions to meet the needs of blow moulding processors in India. By opening this new facility near Mumbai, we are strengthening our position to serve our growing customer base in this attractive market."
SMM; comprises a team of professionals with an exposure to plastic industry since 1991. Due to the increased demand from overseas customers, it set up an export firm in 2004 and also tied up with European suppliers like Plastic Systems & Green Box for dryers, dehumidifiers and chillers in 2007. In the course of further expansion, SMMPL bought over extrusion blow moulding Machine manufacturer MAZDA Mech Industries. Now SMMPL has its own Manufacturing Unit near Mumbai along with the Trading office in Mumbai.
(PRA)