NGR buys screen changer firm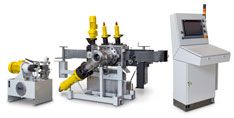 Austrian recycling equipment supplier Next Generation Recyclingmaschinen (NGR) has acquired 100% equity in Britas Recycling. NGR will operate Britas as a subsidiary. Britas is a manufacturer and developer of filtration systems for heavily contaminated plastic melt streams. The automatic screen changers are suited for filtration of post-consumer plastics waste and are used for high output rates.
NGR develops, manufactures and markets plastics recycling equipment in five different lines. The product portfolio covers applications in the areas of industrial in-house waste management and post-consumer plastics recycling. It claims an export share of 98% and has branch offices in the US, Malaysia and Taiwan. Set up in 1996, its turnover last year was EUR29 million.
This deal provides Britas with access to NGR's global sales network and enables NGR to improve its market position and expertise in the post-consumer applications segment.
(PRA)