Reifenhäuser buys Italian winder maker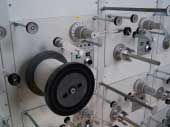 After more than 25 years of collaborating with Italian winder manufacturer Nuova Protex, Germany-based extrusion machinery maker Reifenhäuser has acquired the firm. Nuova Protex specialises in designing and manufacturing take-up winding systems for synthetic fibres such as monofilaments, multifilaments, raffia, flat tape and strapping tape as well as supplementary components.
The company will operate under the name Reimotec Winding Technology as part of the business unit Reimotec thus completing the Reimotec product range of monofilament, artificial turf and strapping tape lines. The current managing director Pino Manieri will retain his position. The existing team is transferring with the business and, thus, ensures that customers will be offered tailored solutions in the same proven quality as before. Reimotec Winding Technology will focus on the development of innovative winder technology.
(PRA)