Lanxess starts construction work on Chinese pigment plant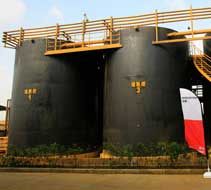 German speciality chemicals company Lanxess has just started piling for its EUR55 million premium iron oxide red pigments facility in Ningbo. The plant, which will create 150 new jobs in Ningbo, will have an initial capacity of 25,000 tonnes/year. With the start of the piling process, the construction work is proceeding on schedule, said the firm. New red iron oxide pigments will be introduced to the global market in the first quarter of 2015.
At the Lanxess site in the Ningbo Chemical Park, the construction of the foundation for the future production and administrative buildings has begun. Almost 2,000 piles will be set to support the buildings' foundation. "The plant expands our global production network for inorganic pigments and enhances Lanxess position as a leading supplier of sustainable pigments with outstanding properties and performance. It also further complements our product portfolio and allows us to be better positioned to meet the growing market demand not only in China, but globally", said Joerg Hellwig, Head of the Inorganic Pigments business unit.
The company will market the new yellow shaded red pigments worldwide under Bayferrox. Key customers are manufacturers of paints and coatings, construction and plastics industries.
The firm is also using the Penniman red process and utilising world-class environmental protection technology, in terms of water treatment, waste gas cleaning and energy consumption, for the production of the iron oxide pigments. The production site is located at the Ningbo Petrochemical Economic & Technological Development Zone. Ningbo is China's second largest cargo port and home to China's largest terminal for liquid chemicals.
Lanxess already operates one of China's largest and most modern plants for inorganic pigments in Jinshan, Shanghai. This plant has an annual capacity of 38,000 tonnes/year of high-quality iron oxide yellow and black pigments. The Jinshan site supplies beside other Lanxess facilities the Lanxess milling and blending plant in Taopu, Shanghai, for the production of high grade synthetic iron oxide pigments under the brand name Bayferrox.
The Inorganic Pigments (IPG) business unit today has an annual capacity of more than 350,000 tonnes, making it the world's leading manufacturer of iron oxide and chromium oxide pigments. The IPG business unit belongs to Lanxess's Performance Chemicals segment, which achieved total sales of EUR2.2 billion in fiscal year 2012.
(PRA)