​ Shaping new trends for packaging industry: versatile, smart and sustainable
Plastics packaging has occupied over 30% of share in packaging market, thanks to its outstanding properties such as lightweight, versatile, anti-corrosive, anti-abrasive, and easy to process propertiesand more that other materials cannot match. In the next few years, safe, environmentally friendly, lightweight, multi-functional and intelligent packaging will remain in mainstreams. Packaging products which feature multiple characteristics such as anti-microbial, high temperature resistant, UV-ray resistant, high barrier, biodegradable and recyclable will be at market's focus.
Many of the key players involved in advancing these materials and processing technologies will be among those exhibiting inChinaplas 2016 to be held 25-28 April in Shanghai. 3,200 exhibitors will becategorised into 16 theme zones, such as Automation Technology; Plastic Packaging & Blow Moulding Machinery; Extrusion Machinery; Film Technology; Recycling Technology; Chemicals & Raw Materials; Colour Pigment and Masterbatch, etc.
Leading players in plastics packaging over the world are flexing their muscles to push the technologies into limits in order to meet the consumers' needs in this fast changing packaging world. Below are some of the examples.
Versatile - Multi-functional packaging making inroads
According to a report of Freedonia, food and beverage, and medical sectors will be the key drivers for the strong demand of packaging products in 2016. These two sectors require high standard of processing techniques and material requirements. Packaging can exhibit multiple functions including high barrier, boiling tolerance, UV-ray resistance, high preservation ability, selective ventilation property, high temperature resistance, anti-microbial, anti-corrosion, deodorisation, shape memorisation, easiness of reclosure are particularly in high demands.
To fulfil all these functions, film making technology evolves quickly to extrude multiple layers and integrate them seamlessly with the latest co-extrusion technology. For example, German KuhneAnlagenbau, also a Chinaplas 2015 exhibitor, has partnered with DuPont to launch TripleBubble1 water quenched and bi-oriented film technology. The new coextrusion technology can provide up to 11 layers of functional polymers,in 20-110μm thickness and the elasticity up to 60%. It demonstrates a good balance of puncture resistance, flexibility, softness, seal performance, transparency, and shrink behavior while saving raw materials up to 50% over conventional laminate structures.
Typically, cooking pouch is made of heat-resistant plastics with the outer layer of PA/PET high barrier film, the middle layer of aluminum foil for light shielding while the inner one is thermal sealing multi-layerof PE, PP composite films.Recently, the American injection company, Milacron, has presented a cooking can - Klear Can, which can withstand heat up to130°C and its three layer plastic construction (PP-EVOH-PP) allows for a shelf life of 2-5 years. They use a new co-injection systemto produce this transparent food can, with which the consumers can see through the food content and in-mould labels with different colours can be applied.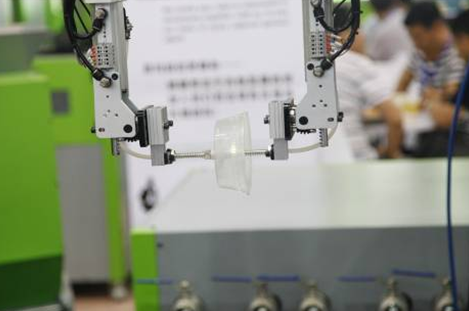 Smart and efficient production
The notions of "Made in China 2025" and "Industry 4.0" have encouraged scores of Chinese manufacturers embracing smart production. Many companies have started integrating robotics, digital network and automatic equipment into their production lines, from sorting and picking, precision wielding, packaging, inspection to storage and to transportation. With these in place, it not only increases productivity and precision, but also consumes less power and cut the production cost.
Bosch's D3 robotic packaging solutionsuse Paloma D3 feed and top-mounted robot to integrate into Module ++ biscuit packaging production line. This enhanced D3 robotic platform handles higher payloads up to three kilograms and ensures faster speeds to increase pick rates. It can be configured to the diverse applications, thanks to the fully modular design.
Similarly, Demag'sEl-Exis SP 200-67 shows off how efficient of injection moulding machine can be. The machine is able to produce 4 PP food container injectionmoulding (125ml) with production cycle less than 2 seconds, resulting in 3% - 5% less than the standard production cycle time.The final product is picked up by robotic arm automatically.
China contenders also show a great progress on the production technology. For example, GuangdongGuozhuPrecision Mold Co., Ltd has developed a high speed injection moulding system which can produce 600,000 HDPE bottle caps per day and each cap weighs only at 1.95g. Its full output rate can reach as fast as 28.8 thousand per hour.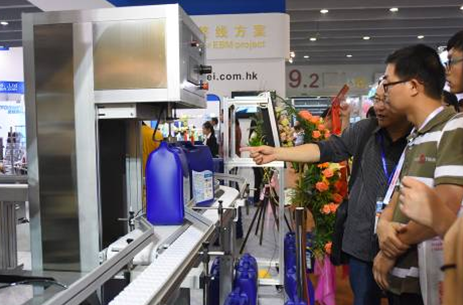 Sustainable packaging and end-of-the-life consideration
Sustainable packaging has drawn a lot of attention in the market amid the rising awareness of environmental protection and imposing global and national legislations on wastes management. Sustainable packaging can be achieved mainly through minimisation of packaging, reduction the packaging weight, and facilitating the reuse and recycle of end-of-the-life products.
Thinner and lighter packaging can significantly reduce the disposal wastes. Taking film as an example, the material flexibility, viscosity and easiness to process are keyto make a thinner film. DSM's recently launched modified polyamide Akulon XS which crystallises much slower in the film bubble than conventional ones and hence gives processors more leeway in their processing conditions.The film is also more stretchable, while offers exceptional mechanical strength and durability.
Biopolymers are another way to reduce the environmental impact. NatureWorks'sIngeo, a plant sugar-based polymer derived from natural resource, can not only be biodegradable but also maintain similar mechanical strength and heat resistant property as the non-biobased polymers. NatureWorksnotes that manufacturers should not consider only the raw material cost but the overall production cost. As compared with PET,Ingeo consumes less energy and save more cost by being processed in low temperature environment.
Apart from reducing the wastes from the source by using bioplastics, the advances of plastics recycling technology can help too. Optical sorting solution, for example, can sortresin and pellets baseon colour, texture and shape and remove all kinds of impuritiessuch as discolouration, stains, dye drops, etc, while extracting pure and high-value materials. At Chinaplas 2015, Austria firm EREMA demonstrated IntaremaTVEplus featuring their patented technology--Counter Current. The system can recycle materials that are difficult to process such as heavily printed films and/or very moist materials with this new invention.
In response to the high demand for plastic wastes management,Chinaplas 2016 will introduce a new "Recycling Technology Zone" withan aim to provide sustainable recycling solutions.Chinaplas 2016 will be held from 25-28 April, 2016, at the Shanghai New International Expo Centre in Pudong, PR China. Companies from more than 40 countries and regions will be displaying latest technologies and materials, many of which directly serve the packaging industry. Exhibitors who have already made their booth reservations include BASF, Clariant Chemicals, Covestro, Demag, Dow Chemical, Dow Corning, Du Pont, Engel, ExxonMobil, Hotsys, Inglass, Jwell, Kingfa, Mitsubishi, Mold-Masters, Natureworks, Nordson, Mould-Tip Injection Technology, to name just a few.
It is expected that some 140,000 professional buyers from 150 countries and regions will visit the show. In the past exhibitions, it had attracted a number of leading packaging companies and endusers from food & beverage and daily chemicals to attend, such as Alcan, Amcor, Amway, Aptar, Beauty Star, Bemis, Coca Cola, Colgate, Essel, FSPG, Lee KumKee, Nongfu Spring, P&G, Rex, Rexam Plastics, Sealed Air, Wrigley, among other famous enterprises.
For details, please visit the official show website at www.ChinaplasOnline.com
(PRA)
Copyright (c) 2015 www.plasticsandrubberasia.com. All rights reserved.