Lure of the Southeast Asian economies
As the year comes to a close, against the backdrop of the lacklustre economies of Europe and the US sorting out its "fiscal cliff" with some US$600 billion tax increases and government spending cuts due to begin in January, the attraction to invest in Southeast Asia, especially for the plastics sector, is expected to increase next year.
The year saw China experiencing a slowdown, with the country likely to set a lower economic growth target in 2013. India, on the other hand, says that its economy is poised to recover with a growth of 6% in the last two quarters of this year.
Hence, machine makers are expected to target the Southeast Asian countries, which continue to grow. The focus will be on promoting technology and targeting application-driven processors, say European machine makers.
European companies in an export mode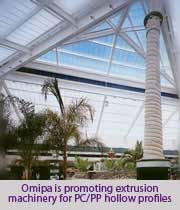 Extrusion machinery equipment firm Omipa, which exports almost all its output, expects a stable year ahead, especially since it offers high performance technology, said Managing Director Fabio Cazzani in an interview with PRA recently. "The global market, especially China and Asia, is ok for us, compared to Europe," he added. "Customers are still investing and growing, especially in the niche market of optical and display sheets," he explained.
Meanwhile, the firm continues to innovate and is trialling a machine for profiles. "We are targeting a new market for our latest profile machine," said Cazzani, adding that the firm has also developed an EVA film line and expects to commercialise it soon. Next year, when it celebrates its 50th anniversary, Omipa expects to launch a LED/LCD sheet line.
Compatriot Italian extrusion machinery maker Macchi, which averages sales of EUR50 million/year, had a growth of 15% this year, "even with the cuts in Germany", said International Sales Manager Mauro Andreoli. The Venegono-located firm "keeps proposing multi-layer lines, even for non-barrier layer films to enhance film performance," he added.
The firm has had a number of milestones, having expanded its facility near Milan to 5,000 sq m to allow for up to 12 machine trialling; and the launch of what it says is the world's first nine-layer film line utilising a new generation nanocomposite EVOH from Nippon Gohsei. "It allows for 30% barrier enhancement and is a future potential for extrusion processors," said Andreoli.
And while Macchi's main market is still Europe (accounting for 56% of sales), Asia, Middle East and Africa (15%) are regions of interest to the firm. "We have had an office in Singapore the past few years where Macchi Asia Pacific operates from." He also adds that the firm's emphasis on quality, line flexibility (to maximise all resources available) and minimise power intake are factors that will help it to cater to the market needs in Asia.
Meanwhile, Italian film extrusion machinery maker Bandera's answer to meeting the tough economic conditions is to innovate a competitively-priced Smart Flex three-layer blown film line. "This concept applies not only to emerging economies but also in technologically advanced nations where the need to produce generic film with minimised margins is occurring," said Sales Manager Luca Michelon. "Cost reduction is derived by offering a basic line with basic components like the take-off and winder but no accessories," he further explained. Bandera is offering two line configurations: with an output up to 350 kg/hour (1,600 mm useful width) and up to 500 kg/hour (2,200 mm useful width). "We have good response and already sold five lines to Russia, South America and Europe since the introduction at the PlastMilan show early this year." Though he says the firm has not developed a five-layer line in this concept, it is negotiating with a few processors in South America and Saudi Arabia for a five-layer Smart Flex line.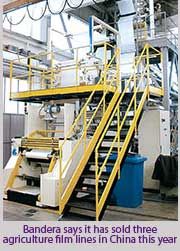 Michelon also pointed to a favourable and growing market for the firm's agriculture film lines. Bandera expects to close the year with a new sales record of over EUR63 million, of which 18% will be accounted for by blown film lines for agricultural purposes. "We sold three agriculture film lines in China and one in the Middle East this year, with the largest diehead (2,000 mm) line in Israel. In 2013, we expect to clinch four more orders," added Michelon.
In expectation of increasing sales, Bandera is expanding its facility in Busto Arsizio. The construction involves two buildings for testing and a showroom with a technical centre – all to be completed by February 2013.
Technology-wise companies stay at the top
German machinery company KraussMaffei also expects higher sales in Asia, which in fact are currently on par with its European and US sales, especially in the PU machine sector, said Nicholas Beyl, Director of Technology (Reaction Processing Machinery), speaking at a press conference during the Fakuma exhibition in October. "The main growth drivers are the automotive interior and soft foams sectors plus business looks promising for high-end composite fibre applications."
CEO Jan Siebert also stressed that though the firm is not immune to economic conditions it had managed to survive due to its machinery for high-tech applications. "Incoming orders are at a satisfactory level so we don't expect to see a downturn (compared to 2008), and expect good results next year," he said, adding that this year the firm superseded the billion mark in terms of turnover.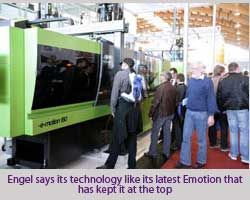 Meanwhile, Austria-based injection moulding machinery maker Engel expects higher sales in Asia too, according to Sales Director Christian Pum, speaking at the Fakuma show in Friedrichschafen, Germany. In view of this, Engel is investing EUR62 million (from 2011 through 2013) to undertake expansions at its headquarters plant in Schwertberg, Austria, its large machine factory in Saint Valentin, Austria, and its plants in Shanghai, China, and Pyungtaek, South Korea, and its robot and automation factory in Hagen, Germany.
"This year, we have doubled the capacity of our facilities in China and South Korea so this means we should double the turnover (up to EUR60 million) in these countries," said Pum. Nevertheless the firm, which is aiming to reach the EUR1 billion mark for its sales next year, expects a slight decrease next year.
Technology, again, has played its part in the 8% growth of sales. "Energy efficient machinery is a central issue that has helped the company increase its positioning in the market in the last few years," said CEO Peter Neumann. "The Southeast Asian market is also growing due to the demand for electric machines. We expect in the future 25% of all machines sold will be fast cycle ones; 50% high performance and the rest standard ones." In fact, the firm expects to sell 2,500 of its e-mac all-electrics and 2,000 of its hybrid Ecodrive in Southeast Asia with 7,000 units of both types in China.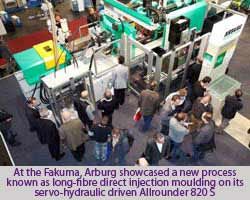 Compatriot injection moulding machine company Arburg is also not concerned about the "cooling down" of the market. "This is mainly for the less technical products," said Sales Director Helmut Heinson, in a press conference also during Fakuma.
"In the past we have always assumed that the Chinese market will be 40,000 to 60,000 machines a year. About 8,000 of these machines are imported from Japan, Taiwan, South Korea and Europe, with what we sell being used for high value applications," said Heinson. "Our business has increased a lot in China, Taiwan and Indonesia in the past few years. We will open more offices in China as well as invest in sales, people and application support in Asia," he added.
(PRA)