BASF opens new CSB plant in Bahrain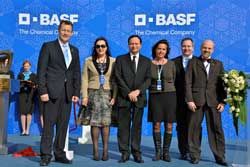 Plastic additives firm BASF has opened a world-scale production site for customer specific antioxidant blends (CSB) in Bahrain, which will start production by end of 2012.
The CSB are additives-blends, which can be individually customised per client requirement.
The company says that new site, which is based on proprietary CSB technology will embark BASF Plastic Additives to support the growth of the polymer industry in the Gulf Corporation Council (GCC) with the same quality, safety and employee training standards the company has adhered to, says Michael Heinz, Member of the Board of Executive Directors of BASF.
Kamal bin Ahmed, Minister of Transportation and Acting Chief Executive of the Bahrain Economic Development Board, says that the presence of large manufacturing firms like BASF in Bahrain plays an important role in the country's long-term economic growth plans as well as in providing high quality jobs.
The new facility, which is part of an established antioxidants production network comprising Asia, Europe and the Americas, will provide local production and services to the polymer market in the Middle East, especially to key customers in the countries of the GCC. It comes in addition to the existing manufacturing agreement for CSB with Astra Polymer in the Kingdom of Saudi Arabia, which has been extended earlier this year.
(PRA)