DSM breaks ground on R&D centre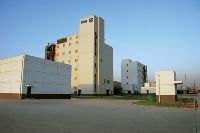 Dutch materials firm DSM recently held a ground breaking ceremony for a new materials sciences research building in Sittard-Geleen, the Netherlands. The new facility, which is scheduled to open in 2014, forms part of an investment of around €100 million that DSM is making in three new R&D facilities in Sittard-Geleen and in Delft (also in the Netherlands).
Speaking at the ceremony, Roelof Westerbeek, President DSM Engineering Plastics, confirmed DSM's commitment to innovation in the Netherlands, where the company was founded over 110 years ago.
Westerbeek considers the investment an important step in DSM's strategy for Materials Sciences: "Innovation - developing and marketing of innovative sustainable solutions for the automotive, electronics, food packaging and consumer goods industry - is the main driver of DSM Engineering Plastics' profitable growth strategy," he said. "We have recently expanded our expertise in other regions, such as the US and Asia, where a Materials Science Centre and automotive development lab was opened in 2011, in Shanghai, China. At the same time we continue to invest in core competences in Sittard-Geleen, which we will exploit globally for our customers and our business. For example we invest in developing new polymers like Stanyl ForTii, EcoPaXX and Arnitel Eco, new functional materials like thermoconductive plastics for lighting and halogen-free flame retardant solutions for the electronics industry, and new application solutions like our Akulon Fuel Lock for low-emission outdoor power equipment."
The new facility will be the most important R&D centre for DSM Engineering Plastics in the world, next to the centres in Asia and the US and will also provide R&D for other units in DSM's Materials Science cluster, such as DSM Dyneema, as well as new innovation activities in the field of bio-based materials and biomedical materials.
(PRA)