Piovan introduces a productivity measuring system for machines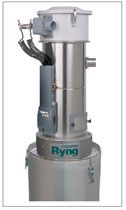 Italian auxiliary equipment maker Piovan has introduced Ryng that measures the quantity of material transferred from the container to the hopper and also the machine's productivity. The latter is traditionally calculated downstream, based on the weight and number of moulded items produced within a specified period of time but does not provide prompt and precise information on how the machine is actually performing or about its production levels.
Ryng uses proprietary software with specific algorithm settings, which manage and process the gathered data and consequently indicate the actual quantity of transferred material. The system, in fact, measures the gain in weight in the loading phase, interpolating this data with the value for the loss of weight of the container when transferring material to the hopper. In this way, it provides information directly from the field and allows comparisons to be made between the machine's expected production and what it actually produces. In addition, the software is programmed to exclude or reduce to a minimum any measurement fluctuations that may be caused by the inevitable vibrations felt throughout the feeder system due to the machine's normal operation. So, the system achieves high precision measurements (with an error rate of less than 1%), says Piovan.
Ryng is equipped with a small keyboard for setting details concerning the specific production batch and is connected to a remote control monitor with an 8-inch, touchscreen display. Several Ryng systems, each installed on a different processing machine, can be linked up to the same monitor. In this way, when production batches are the same, it is possible to establish the productivity of the whole line and also compare the productivity of each individual machine.
Piovan also says that Ryng is a universal device, that can be applied to loaders of all makes and models; is simple to install and run.
(PRA)