Rajoo's first multi-product open house gathers Indian pipe manufacturers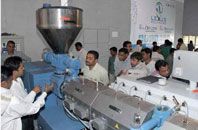 Over 180 professionals representing more than 90 companies PAN India witnessed various technologies powered by Rajoo and Bausano in the event that also featured live demonstrations of a range of machines that redefine manufacturing of high performance pipes.
Highlighted in the show was the Twin Screw CPVC Pipe Plant running at 130 kg/hr, pipe OD of 28.6 mm, pipe thickness of 2.12 mm. Rajoo Engineers is the first Indian company to successfully demonstrate a CPVC pipe machine in an Open House
Twin Screw PVC Pipe Plant was also shown being operated at a capacity of 1000 kg/hr, which was never before seen in India. The pipe OD was 400 mm and wall thickness of 16.2 mm. This high output plant will now be shipped to Africa.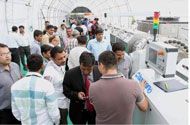 With this open-house, Rajoo marked its strong penetration into the market of Drip Irrigation pipe plants. The demonstrated line was running at 170 kg/hr with a line speed of 80 MPM, 200 dripper insertions/min, with the wall thickness being 0.7 mm.
The infrastructure, capabilities and expertise from Rajoo, including its tooling and precision machining, highlighting the Rajoo approach of global in quality at affordable prices.
The company attributed the success of this pioneering initiative to its emphasis on product, technology, and approach innovation. The untimely demise of its Chairman, Shri C. N. Doshi has served as challenge for the group to establish itself as a highly professionally managed organsiation.
(PRA)