LANXESS acquires Singaporean biocide specialist PCTS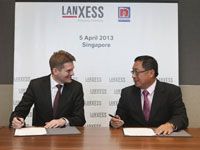 German speciality chemicals group, Lanxess, has acquired Singapore-based PCTS Specialty Chemicals Pte. Ltd for an undisclosed amount. The transaction closes with immediate effect.
Through the acquisition, Lanxess will become the leading suppliers of biocides for paints and coatings in the Asia-Pacific region. The company will gain access to a complementary portfolio of biocides and will benefit from PCTS' highly-recognised product expertise and know-how in paints and coatings.
Singapore-based PCTS specialises in biocides for environmentally friendly water-based paints that comply with stringent health and safety, as well as environmental standards. Biocides prevent the deterioration and discoloring of the paints caused by microorganisms.
PCTS's modern production and laboratory facilities are nearby Lanxess's Singapore headquarters
The biocide firm, which is majority owned by NIPSEA Technologies Pte Ltd , has recorded sales in the single-digit million euro range in 2012, with China accounting for the 60% sales.
PCTS will be integrated into the Lanxess business unit Material Protection Products (MPP), which belongs to the company's Performance Chemicals segment. It will become MPP's new Asia Pacific Headquarters.
MPP, which has acquired the US-based biocide company Verichem Inc. as well as the material protection activities of Switzerland-based Syngenta in 2011, also offers stabilising agents for beverages. It is currently the world's leading manufacturing phenolic active ingredients for disinfection, with production sites in Krefeld-Uerdingen and Dormagen (Germany), Pittsburgh (USA), Jhagadia (India) and Changzhou (China).
(PRA)