Equate and Gulf Cryo team-up for CO2 recovery project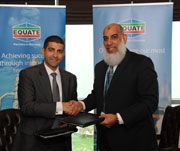 Equate Petrochemical Company, an international joint venture between Petrochemical Industries Company (PIC), The Dow Chemical Company (Dow), Boubyan Petrochemical Company (BPC) and Qurain Petrochemical Industries Company (QPIC). signed an accord with Gulf Cryo for Kuwait's Second CO2 Recovery Project.
Gulf Cryo will obtain CO2 from Equate's plants to be converted and used for industrial purposes. It is investing heavily in Kuwait's Shuaiba Industrial Area with a pipeline that will deliver the product from Equate' s plants to Gulf Cryo's production facilities.
EQUATE President & CEO Mohammad Husain said that the new project is n extension of Equate's previous initiative of Kuwait's First CO2 Recovery Project launched in 2008. This project is not only aimed at creating an added-value from the CO2, but is also a part of Equate's sustainability driven efforts to protect and preserve Kuwait's environment."
Gulf Cryo CEO Naji Skaf explained the process, stating that they capture the gas (from Equate) that contains raw CO2, then filter and purify it at their recovery plant, sited near Equate's manufacturing complex. He furthered that the process separates CO2 and other gases to liquefy pure CO2, which is required in many industries, such as food and beverage, welding and cutting and in the manufacture of dry ice.
(PRA)