R&D: Omya/IFG explore integration of calcium carbonate in fibres; Evonik/Likat discover new type of hydroformylation for cost effective production of INA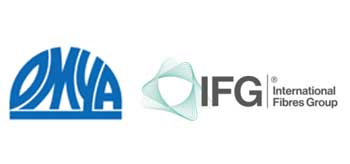 Swiss masterbatch maker Omya and International Fibres Group (IFG) are in a strategic R&D partnership to explore the incorporation of calcium carbonate within fibres. The two companies will work together using IFG's Fibres Research Centre in Linz, Austria, to explore new fibre product performance, characteristics and applications which will incorporate Omyafiber, a specially developed calcium carbonate for fibre and nonwoven applications.
The two companies will jointly promote their findings into the fibres and nonwovens industry. The collaboration has commenced with successful trials of the incorporation of Omyafiber masterbatches into PP and PLA staple fibres, and further polymer types are under consideration to be tested on the pilot line.
Calcium carbonate is being considered as it is a sustainable and renewable raw material, addressing some of the environmental pressures on the fibre industry. Its carbon footprint is approximately 300kg CO2 per ton of calcium carbonate. It can be used in recycled materials and is also recyclable itself.
When Omyafiber is combined with staple fibres, the IFG R&D teams discovered improved haptics, opacity and whiteness. It can also replace the use of titanium dioxide which has a significantly higher carbon footprint.
Due to the high thermal conductivity properties of Omyafiber in the polymer matrix, it allows for products to be created that have lower sealing/bonding temperatures. Omyafiber is approved for food contact applications, it does not cause skin sensitivity and is approved for use in apparel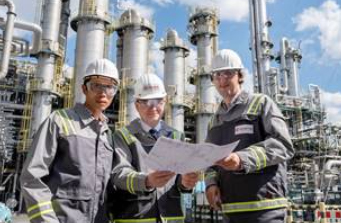 In other news, a research team involving German chemical firm Evonik and the Leibniz Institute for Catalysis (Likat), has made another breakthrough in the field of hydroformylation. Hydroformylation is one of the most important reactions in industrial organic chemistry. Unsaturated compounds are converted into aldehydes and alcohols using synthesis gas.
Until recently, the scientific consensus was that this reaction, if catalysed with cobalt, could only be carried out under high pressure conditions without the catalyst decomposing.
This was disproved by Professor Dr. Robert Franke, head of hydroformylation research at Evonik, together with research partners from Likat, Dr. Baoxin Zhang and Dr. Christoph Kubis. "With this discovery, we have identified new process options for hydroformylation," said Dr. Franke, who is also a professor of chemistry at Ruhr University in Bochum. "In the future, it may be possible to make this large-scale reaction much more economical and environmentally friendly. Developing these processes will be our task for the next few years."
The researchers succeeded in demonstrating, for the first time, that cobalt carbonyls - very inexpensive compounds for the catalysis of hydroformylation - are active and stable even at low pressures. The key to this discovery was the development of special spectroscopic measurement methods and associated mathematical tools for data evaluation.
High-pressure processes that use cobalt carbonyls as catalysts could be replaced in the future by new processes with lower pressures. These new processes would then be more cost-effective, energy-efficient and thus more sustainable. At Evonik, this would have an impact on the production of long-chain alcohols such as the oxo alcohol isononanol (INA), which is used, among other things, to manufacture plasticisers.
The study was published in the Science journal. This is Professor Dr. Robert Franke's second appearance in Science on carbonylation reactions. In 2020, Franke succeeded in a so-called 'dream reaction': the direct carbonylation of 1,3-butadiene.
(PRA)
---
Subscribe to Get the Latest Updates from PRA Please click here
©2022 Plastics and Rubber Asia. All rights reserved.

©2022 Plastics and Rubber Asia. All rights reserved.
Home
Terms & Conditions
Privacy Policy
Webmail
Site Map
About Us
SOCIAL MEDIA