Green tie-ups: Petronas Chemicals/ExxonMobil collaborate on recycling in Malaysia; Dow's TF-BOPE resins enable Lion to launch recyclable shower cream bags in Thailand

Malaysian chemical firm Petronas Chemicals Group Berhad (PCG) and US-based ExxonMobil have signed a memorandum of understanding to assess the potential for large-scale implementation of advanced plastic recycling technology to help create a circular economy for plastics in Malaysia. The companies will also evaluate opportunities to support improvements to plastic waste collection and sorting in the country.
Representing PCG at the signing was Ir. Mohd Yusri, Managing Director/CEO, and for ExxonMobil, Dave Andrew, Vice President of new market development.
"PCG has been continuously exploring and implementing innovative technologies to develop sustainable solutions demanded by its customers," said Ir. Mohd Yusri. "This collaboration is yet another significant step towards the transition into a circular economy on the back of increased demand for circular products and signifies our commitment to use recycled raw materials in the chemical industry."
"Advanced recycling plays an important role in meeting the growing demand for circular products, while helping to address the challenge of plastic waste," said Andrew. "Leveraging new technologies and the expertise of both of our organizations, we hope to accelerate a more circular economy for plastics in the region."
The agreement builds on a long-standing relationship between ExxonMobil and Petronas that has seen multiple successful collaborations and business ventures in Malaysia and abroad.
PCG is committed to accelerating the region's transition to a more circular economy for plastics. The company is currently conducting several feasibility studies on plastics recycling. In 2019, PCG signed an agreement with Plastic Energy to convert end-of-life plastics using a pyrolysis process, and the facility is on track to be operational by 2025. In addition, PCG is collaborating with waste management companies to unlock the value within the solid waste ecosystem in Malaysia. These collaborations will help to divert plastic waste from landfills and create an ecosystem that is conducive to the transition to a circular economy.
ExxonMobil plans to build approximately 500,000 tonnes of advanced recycling capacity at its integrated manufacturing facilities around the world by year-end 2026. At its proprietary Exxtend technology at its advanced recycling facility in Baytown, Texas, ExxonMobil has processed more than 5,000 tonnes of plastic waste since the facility started up in 2021, and is on track to complete large-scale expansion of the facility later this year. The company is assessing additional sites for advanced recycling in the US, Canada, Europe and Singapore, and collaborating with Plastic Energy to build an advanced recycling plant in France.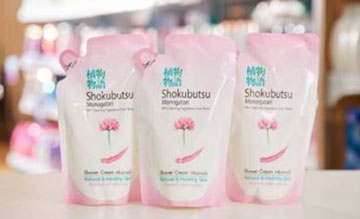 In other news, US materials firm Dow has partnered with Thailand's Lion Corporation to launch recyclable refill bags for Shokubutsu Monogatari's shower cream in Thailand, using Dow's Innate TF PE resins for Tenter Frame Biaxial Orientation (TF-BOPE).
Leveraging the materials science expertise of Dow Thailand Group, as well as the distribution network of SCG Chemicals (SCGC), Lion Corporation managed to develop fully recyclable 200-ml and 500-ml shower cream refill bags for its beauty care brand, Shokubutsu Monogatari. The newly developed recyclable packaging is said to be a milestone for Dow's breakthrough Innate TF-BOPE resins, enabling traditional hard-to-recycle packaging to be easily integrated into existing recycling streams. The recyclable Shokubutsu Monogatari shower cream refill bags will eventually replace the older bags and are now available for consumers across department stores and supermarkets in Thailand nationwide.
"Providing consumers more sustainable choices can only be possible with the effort and collaboration from the entire value chain," said Bambang Candra, Asia Pacific commercial vice president, Dow Packaging & Specialty Plastics. "We are excited to collaborate with like-minded partners including Lion Corporation and SCGC, providing Dow with this opportunity to develop the easy-to-recycle refill bag for consumers in Thailand."
"Refill bags are a popular choice in Thailand due to increasing awareness from consumers on the need to reduce plastic waste and carbon emissions. However, due to stringent technical requirements, traditional refill bags are often made of films laminated with multiple kinds of plastics – making it extremely difficult to recycle this packaging," said Supot Katetopragran, commercial director of Dow Thailand.
He added, "Dow's TF-BOPE has durable material properties, offering high toughness and excellent optics for stand-up shelf appeal and touch and feel, enabling the development of a high-performance all-polyethylene structure that can be easily recycled, along with responsible disposal and recycling infrastructure."
"The recyclable refill bag for Shokubutsu Monogatari shower creams is an example of how more sustainable packaging can help to close the loop – through collaboration from business alliances, Dow's recyclable packaging solution, and support from SCGC. These made the development of Lion Thailand's first recyclable refill bags possible while ensuring the quality of the product inside the packaging," said Somsak Srisaardrak, SPC Business Executive Manager of Lion (Thailand).
(PRA)
---
Subscribe to Get the Latest Updates from PRA Please click here
©2022 Plastics and Rubber Asia. All rights reserved.

©2022 Plastics and Rubber Asia. All rights reserved.
Home
Terms & Conditions
Privacy Policy
Webmail
Site Map
About Us
SOCIAL MEDIA