Green tie-ups: Palsgaard's bioadditives for South Korean PE films; Ineos Styrolution/Coexpan verify food contact use of recycled PS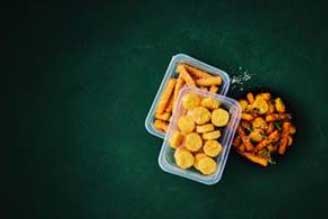 Danish plant-based additives supplier Palsgaard says that its Einar 611 bio-based anti-fog surfactant has been successfully specified by a major Korean supplier of food-grade PE film solutions. The customer had been looking for a cold anti-fog additive that would effectively protect the packaged food from spoilage by preventing the formation of condensation droplets on the inside of the film. At the same time, the surfactant had to eliminate regulatory concerns with regard to its chemistry and provide superior functional performance at cost-effectively low concentration.
In an iterative sampling process focused on the customer's specifications and needs, comprehensive experimental and trial data was shared between the partners to optimise and validate the film solution. In this process, Palsgaard's Polymer Application Centre in Denmark provided support in assessing the right concentration level of Einar 611 in this cold anti-fog application and helping the customers accelerate the time-to-market of the new PE food packaging film.
As a renewable polyglycerol ester made from vegetable oils that are not competing with food or feed sources, Einar 611 has been developed as a replacement for conventional anti-fog chemistries, such as glycerol monooleate or sorbitan esters, in demanding PE film formulations designed for sensitive food packaging. With anti-fog performance matching or exceeding that of non-vegetable fossil-based incumbents, it delivers excellent results in LDPE and LLDPE as well as coextruded and laminated PE film at low loading levels (typically 0.2% to 0.4%) for both cold-fog and hot-fog applications.
Moreover, it has proven itself as an ideal additive in PE masterbatches and shows no adverse effects on the mechanical, optical or barrier properties of the film, while offering high heat resistance and low volatility. The biobased anti-fog surfactant is available in paste form.
From a perspective of food safety, the long-lasting anti-fog performance of Einar 611 can also make a contribution to the reduction of food waste by preserving its freshness. The additive supports the clear view on the packaged product, which promotes its consumer appeal over a longer shelf-life, and meets all global food-contact standards, including kosher and halal.
In addition, Palsgaard says the anti-fog exhibits a sustainability profile across the entire value chain from production to processing. Produced in fully CO2-neutral factories, it helps PE film manufacturers, masterbatch makers and processors minimise their Scope 3 emissions.
In the meantime, along with expanding its production capacities, Palsgaard continues investing in its own Scope 1 and Scope 2 carbon-neutral production processes. At Juelsminde in Denmark, the company is building a biogas plant which will be using wastewater from Palsgaard, is expected to become operational in early 2023 and will cover 10% of the required gas supply on-site. Another project scheduled to commence in spring 2023 is the construction of a 60-acre solar power plant with an annual capacity of 60 GWh, generating sufficient renewable electricity to power all future capacity expansions currently planned at Juelsminde.
These investments complement Palsgaard's current expansions at the Juelsminde site, including a spray tower to go on-stream in 2023 and multiple new reaction, distillation and esterification facilities to be completed in 2024.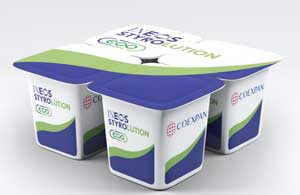 Meanwhile, in other news Innotech (Grupo Lantero's R&D centre for packaging solutions) and Coexpan (Grupo Lantero company) have completed trials with the full range of yoghurt cup formats, used in both European and American markets, made from Ineos Styrolution PS ECO 440FC MR100 material, a 100% PCR PS grade produced from household food packaging waste. All dairy formats have been produced and tested to food contacts standards, it adds.
Innotech says the trials show that mechanically recycled PS is produced and successfully tested to food grade standards across all shapes and sizes of dairy applications. According to the findings PS is not only the best material for dairy applications, but also offers the shortest path to circularity for existing market applications.
Members of the entire value chain, and in particular retailers and brand owners, are encouraged and invited to participate and understand what this could mean for PS and for their respective businesses, it adds.
Gonzalo Sanchez, head of recycling within Coexpan, comments: "It is a massive achievement to be able to confirm the success of this exercise, and the results speak for themselves. Many brand owners want the polystyrene journey to continue, and we now have the proof that mechanically recycled polystyrene offers a solution for their food contact applications. This will allow customers to concentrate on their core business rather than looking for alternative materials requiring changes to existing processes and investments into new equipment."
Swiss firm Coexpan has 13 production plants in eight countries in Europe and America (Spain, France, Germany, Italy, Russia, Chile, Brazil and Mexico), specialised in rigid sheet solutions and thermoformed packaging in the main polymers (PS, PP, PET, PLA).
Located in Alcalá de Henares, in Madrid region (both divisions headquarters), Innotech is the Centre for Technological Innovation of Coexpan and Emsur, launched in 2019.
(PRA)
---
Subscribe to Get the Latest Updates from PRA Please click here
©2022 Plastics and Rubber Asia. All rights reserved.

©2022 Plastics and Rubber Asia. All rights reserved.
Home
Terms & Conditions
Privacy Policy
Webmail
Site Map
About Us
SOCIAL MEDIA