Green tie-ups: On, Borealis, LanzaTech & Technip make shoes from carbon emissions; Orthex uses green styrene for products in cooperation with Ineos Styrolution/BASF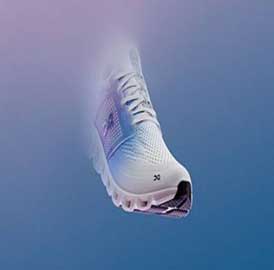 Swiss sports brand On presents the first shoe made from carbon emissions, called Cloudprime. It created a new foam material called CleanCloud, made using carbon emissions as a raw material. On says it is the first company in the footwear industry to explore carbon emissions as a primary raw material for a shoe's midsole, specifically EVA (ethylene vinyl acetate) foam, that could also be used in other shoe parts and products in the future.
CleanCloud is the result of five years of R&D work and collaboration with LanzaTech, Austrian materials firm Borealis and technology firm Technip Energies.
This is how it works: Technology from LanzaTech captures carbon monoxide emitted from industrial sources like steel mills before being released into the atmosphere. Once captured, these emissions enter a patented fermentation process. Thanks to specially selected and naturally occurring bacteria, the carbon rich gas ferments naturally and is converted to ethanol. This natural fermentation process is similar to that of conventional alcohol production – e.g., beer brewing.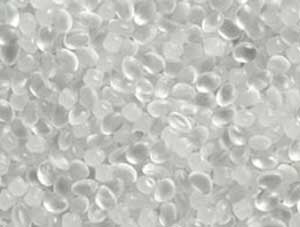 The ethanol is then dehydrated to create ethylene by engineering firm Technip Energies, which is then polymerised by Austrian materials firm Borealis to become EVA in a form of solid small plastic pellets – the versatile and lightweight material that On starts working with to create a performance foam for shoes.
On is also collaborating with circular start-up Novoloop on the CleanCloud outsole, by utilising the world's first chemically upcycled TPU from post-consumer plastic waste.
The outsole was put under rigorous lab and athlete testing, meeting specifications comparable to fossil derived TPUs with a significant carbon footprint reduction. For the upper, On is collaborating with the young French start-up Fairbrics to create a polyester-based textile made from carbon emissions.
LanzaTech is using a combination of genetic engineering, biotechnology, artificial intelligence, and innovations in mechanical and chemical engineering to manufacture chemicals using a process that soaks up waste carbon rather than emitting it.
which began with finding the best possible partners. This collaborative approach is key to overcoming the challenges of developing this complex technology at a commercial scale, adds On.
Engineering and technology company for the energy transition Technip Energies in this consortium is in charge of the process of dehydrating ethanol to the gas ethylene, which is a monomer and the most important building block of widely used plastics.
Borealis is a provider of advanced, circular and renewable plastic solutions and essential in creating high-performance, easy-to-process EVA foam for CleanCloud.
Lucrèce Foufopoulos, Borealis Executive Vice President Polyolefins, Circularity and Innovation & Technology: "Borealis is thrilled to be part of this unique value chain collaboration. With our creative partners On, LanzaTech, and Technip Energies we are proud to co-create circularity in carbon and decouple plastic from its reliance on fossil-based resources. Through innovation and collaboration, we continue re-inventing essentials for sustainable living."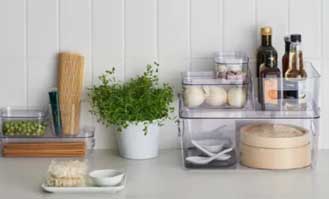 Meanwhile in another collaboration example, Orthex, a Nordic producer of household products, has selected a range of Ineos Styrolution's sustainable Luran ECO raw materials for its range of SmartStore Compact storage products. Luran ECO is a styrene acrylonitrile copolymer (SAN) resulting from a cooperation between Ineos Styrolution and German chemical firm BASF. It is built on BASF's production of styrene monomer derived from renewable feedstock based on a mass balance approach.
Ineos uses the material as feedstock in its production of new sustainable styrenics solutions. According to an independent third-party assessment, the carbon footprint of the new material is 93% lower compared to the fossil-based Luran version.
Orthex says it has long championed sustainability with a focus on long-lasting products and increasing the use of recycled and bio-based materials to replace fossil-based plastic.
As a next step, Orthex will start using new biomass balance based Luran ECO raw material for the entire SmartStore Compact storage range. Orthex adds its main criteria for selecting this material by Ineos Styrolution are easy processability, compliance with food contact regulations, and a reduced carbon footprint.
Alexander Rosenlew, CEO of Orthex Group, comments: "This new raw material solution will support our long-term carbon neutrality target. Ineos Styrolution and BASF make it possible for us to offer consumers more sustainable products. This supports our target to increase the share of sustainable raw materials in our production to 80% by 2030."
BASF's biomass balance (BMB) based styrene is used by Ineos Styrolution in the production of bio-attributed styrenics specialties, mainly transparent styrenics materials such as the company's NAS family of styrene methyl methacrylate (SMMA) products and the Luran family of SAN products.
The BASF and Ineos Styrolution processes within the end-to-end mass balance based production of the new solution portfolio are certified by ISCC+.
To produce styrene BMB, BASF replaces fossil resources like naphtha or natural gas with renewable feedstocks derived from organic waste or vegetable oils. It is one way to produce styrene via a mass balance approach. Mass balance is a chain-of-custody model that keeps track of the total amount (e.g., circular or other alternative) of feedstock throughout the production process and ensures a proper allocation to the finished goods.
(PRA)
---
Subscribe to Get the Latest Updates from PRA Please click here
©2022 Plastics and Rubber Asia. All rights reserved.

©2022 Plastics and Rubber Asia. All rights reserved.
Home
Terms & Conditions
Privacy Policy
Webmail
Site Map
About Us
SOCIAL MEDIA