Billionaire Bloomberg launches US$85 mn campaign to stop expansion of petchem industry in US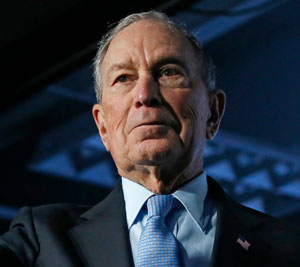 Former New York city Mayor, billionaire entrepreneur, who is also the UN Special Envoy on Climate Ambition and Solutions, Michael R. Bloomberg has launched a US$85 million campaign to halt the rapid expansion of plastic and petrochemical plants across the US, known as Beyond Petrochemicals: People Over Pollution.
Drawing on the success of Beyond Coal, supported by Bloomberg Philanthropies, and Bloomberg's Beyond Carbon campaign, Beyond Petrochemicals will turbocharge existing efforts led by frontline communities to block the expansion of more than 120 proposed petrochemical projects concentrated in three target geographies — Louisiana, Texas, and the Ohio River Valley. Beyond Petrochemicals will also work to establish stricter rules for existing petrochemical plants to safeguard the health of American communities, it adds.
As the world transitions to clean and renewable energy, demand for oil is projected to shift from trucks, aviation, and shipping to petrochemicals. According to the industry's own estimates, by 2050, petrochemical applications will account for nearly half of the growth in oil demand, and will exceed carbon emissions of coal-fired power by 2030.
"Petrochemical plants poison our air and water — killing Americans and harming the health of entire communities. And with many heavily-polluting new projects planned around the US, we're at a critical moment for stopping them," said Bloomberg. "Communities around the country are standing up to confront the petrochemical industry and defend their right to clean air and water. This campaign will help ensure more local victories, support laws that protect communities from harm, and reduce the greenhouse gas emissions that are fuelling the climate crisis."
Bloomberg's landmark announcement comes on the heels of two powerful wins in the growing fight to stop the rise of toxic pollution from the petrochemical industry: Louisiana's 19th Judicial District Court's stunning rejection of Formosa's enormous "Sunshine" plastic project and the cancellation of the South Louisiana Methanol project. These projects would have been significant emitters of carbon and toxic pollution, and both would have been located near Black communities in St. James Parish, Louisiana, in the heart of "Cancer Alley."
Beyond Petrochemicals will scale the work being done by frontline groups and aligned organizations who are leading the fight to end petrochemical pollution in these communities, including Beyond Plastics, the Bullard Center at Texas Southern University, Defend Our Health, Earthjustice, Earthworks, Hip Hop Caucus, Louisiana Bucket Brigade, and Rise St. James among others, and will continue to work with additional organizations and leaders to accelerate efforts to halt petrochemical expansion in Louisiana, Texas, and the Ohio River Valley. Resources Legacy Fund will help support Beyond Petrochemical's partners to achieve the campaign's goals.
The expansion planned by the industry could account for 15% of US greenhouse gas emissions, which could make the US miss its goal under the Paris climate agreement of halving its emissions by 2030, Bloomberg Philanthropies said.
At least 90 petrochemical and plastics projects have been proposed over the last decade, including 42 major construction projects that will release greenhouse gas emissions and other hazardous air pollutants, according to the Environmental Integrity Project, which tracks the planned buildouts.
According to a Reuters report, plastic and petrochemical trade groups called Bloomberg's campaign a "misguided" effort to address plastic waste.
"If Bloomberg wants to help people, it couldn't be more clear that plastic saves lives and improves our quality of life," said Matt Seaholm, CEO of the Plastics Industry Association, adding that the industry has focused its spending on recycling programmes and that Bloomberg's "misguided campaign will create more problems than it solves."
By building on the powerful foundation established by frontline community organisers and environmental justice leaders, the Beyond Petrochemicals campaign will rest on four key pillars:
1. Community Leadership: Resource and empower community advocates in the target regions of Louisiana, Texas and the Ohio River Valley to accelerate grassroots power to challenge industrial buildout and enforce environmental and health protections in their own backyards.
2. Data and Research: Fund necessary studies and deliver accurate data and expert analysis to government and financial decision makers to help advance swift, decisive actions.
3. Legislation and Litigation: Use the power of the law to protect public health and the climate, including engaging a diverse array of experts and approaches, educating decision-makers about the harms of petrochemicals pollution, and advancing environmental policies.
4. Stakeholder Engagement: Engage with the general public and private sector to improve enforcement of regulations and reduce demand for plastic and petrochemical products.
Meanwhile, Judith Enck, former US Environmental Protection Agency (EPA) regional administrator and president of Beyond Plastics, said, "As economic investments move away from fossil fuels for electricity generation and transportation, plastic production has emerged as the Plan B for the fossil fuel industry. Stopping the construction of petrochemical facilities will combat climate change, protect the health of people living near these plants, and turn off the tap of the billions of pounds of plastic that enter the ocean each year. This philanthropic commitment by Mike Bloomberg is extraordinary and will protect public health, particularly in communities of colour."
The petrochemical industry is also detrimental to public health, where nearby communities experience some of the highest rates of pollution-linked cancer and poor health outcomes. Research from the Bloomberg School of Public Health and the Whiting School of Engineering at Johns Hopkins University uncovered that the EPA underestimates risk of exposure to harmful air pollutants and that residents are frequently inundated with a complex and poorly understood mixture of health hazards.
Other supporters of Bloomberg's plan include Dr. Thomas A. Burke, PhD, professor emeritus, Johns Hopkins Bloomberg School of Public Health. "We are only at the edge of understanding the true impacts of petrochemical pollution on public health — from cancer and birth defects to long-term chronic disease. This initiative will provide valuable new data for measuring the toxic chemicals released into our air and water, and understanding their impacts on the health of both fenceline communities and the broader public."
"We applaud Bloomberg's investment in environmental health and climate justice for communities on the frontlines of petrochemical pollution," said Mike Belliveau, executive director of Defend Our Health, and co-founder of Safer States.
"Since 80% of petrochemicals are used to make plastics, the Beyond Petrochemicals campaign will prevent plastic pollution at its source. Stopping the industry's expansion will help hold name-brand companies accountable for slashing demand for plastics, which also threaten consumer health. Big brands must reduce their use of plastics and its chemical footprint across their supply chain. By halting then reversing the rapid growth in plastics production, we will slow climate change, improve human health, deliver environmental justice, and reduce waste. Frontline communities deserve a just transition to good jobs that make safer, more sustainable materials without the use of fossil carbon or toxic chemicals."
Bloomberg Philanthropies had also put the fossil fuel industry on notice by setting out to retire one-third of US coal plants a decade ago. According to Bruce Nilles, executive director of Climate Imperative, "With a sustained effort over the next several years the US will close all coal plants by 2030."
Working at the state and local levels, Beyond Carbon is accelerating the US to a 100% renewable energy economy. Additionally, Bloomberg Philanthropies is working to advance clean energy in 32 countries and the EU and close a quarter of the world's coal plants by 2025.
(PRA)
---
Subscribe to Get the Latest Updates from PRA Please click here
©2022 Plastics and Rubber Asia. All rights reserved.

©2022 Plastics and Rubber Asia. All rights reserved.
Home
Terms & Conditions
Privacy Policy
Webmail
Site Map
About Us
SOCIAL MEDIA