Green tie-ups: LG Chem/Coupang to recycle packaging waste in South Korea; Braskem/SCG in bioPE plant feasibility study in Thailand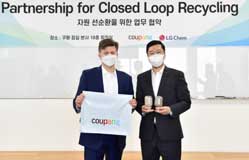 South Korean chemical firm LG Chem has tied up with the country's e-commerce giant Coupang to recycle 3,000 tonnes of packaging waste and to offer a door-to-door plastic-waste retrieval system.
Under the agreement, the firms will collect and recycle 3,000 tonnes/year of stretch wrap that is discarded at Coupang fulfilment centres.
Utilising its post-consumer recycle technology, LG Chem will turn the stretch wrap into raw plastic material that will be used to manufacture Coupang's delivery bags.
Stretch wrap is an extremely elastic plastic film that is repeatedly wound around boxes and products to hold them tightly on pallets.
The two companies will also work together to launch a door-to-door plastic-waste retrieval service by utilising Coupang's nationwide delivery network.
"Every year, Korea collects 800,000 tonnes of PE waste, of which 300,000 tonnes is recyclable. However, 40% is either incinerated, buried or burned as fuel. We need an ecosystem to raise the recycling rate," an LG Chem official said.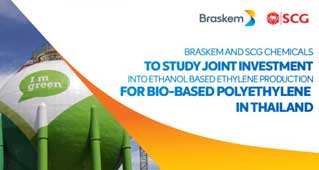 In other news, Brazilian chemicals firm Braskem, which is also the largest biopolymer maker in the world, has tied up with Thai petrochemical company SCG Chemicals to jointly study investment in a new bioethanol dehydration plant in Thailand.
According to the Brazilian company, if the project is implemented, the unit should be located in Map Ta Phut, Rayong, Thailand, within SCG's petrochemical complex to produce bioethene and I'm Green bio-based polyethylene (PE).
Braskem said it would contribute its technology and know-how in the ethanol dehydration process and marketing experience of I'm Green bio-based PE, while SCG Chemicals would use its PE units and production expertise to manufacture the PE I'm Green bio-based for the project, as well as contributing its knowledge of the PE market in Asia.
The execution of the investment is subject to the completion of the aforementioned studies, mutual agreement between Braskem and SCG Chemicals and approval by the competent governance bodies.
"Amidst the ever increasing demand for circular economy and sustainable solutions worldwide, we keep looking for opportunities to expand I'm green bio-based PE availability. Besides meeting customers' expectations and contributing to carbon neutrality commitment by 2050, this project may be a landmark for Braskem's footprint in Asia. We are fortunate to develop this potential partnership with SCG Chemicals that shares the same view in sustainability and has a successful track record in the chemical industry in Asia," said Roger Marchioni, Braskem's Director for Asia.
The memorandum of understanding to carry out feasibility studies for the new plant was signed by the subsidiary Braskem Netherlands BV with SCG Chemicals.
(PRA)
---
Subscribe to Get the Latest Updates from PRA Please click here
©2021 Plastics and Rubber Asia. All rights reserved.

©2020 Plastics and Rubber Asia. All rights reserved.
Home
Terms & Conditions
Privacy Policy
Webmail
Site Map
About Us
SOCIAL MEDIA