Engineering Plastics: Growth and sustainability with a new breed of plastics
Engineering plastics suit the design and structural innovation in a variety of industries since they are high-performance materials with greater features than traditional materials and commodity plastics, says Angelica Buan in this report.
Bullish market for engineering plastics
The engineering plastics market is massive, and it has remained unaffected despite the disruption caused by the Covid-19 pandemic. Indeed, market forecasts for engineering plastics remain bullish.
According to a Mordor Intelligence report, adoption of these high-performance polymers is expected to rise in major industries such as automotive, aerospace, building and construction, mechanical, and medical. The applications will be driving a market that is expected to grow at a CAGR of more than 6% from this year to 2026. As well, as the light weight trend spreads across major industries, engineering plastics will effectively replace traditional materials.
In today's era, comparing engineering plastics with commodity plastics is like comparing oranges to apples.
Engineering plastics outperform common plastics such as polystyrene (PS), PVC, polypropylene (PP), and polyethylene (PE) in terms of mechanical and thermal properties, and have largely replaced wood and metals in a variety of applications due to their excellent weight-to-strength ratio, ease of manufacture, design versatility, and other characteristics.
Expansions on ABS growth
A recent report by Global Industry Analysts cited that the global engineering plastic market will reach 24.6 million tonnes by 2026, up from 19 million tonnes in 2020. One of the segments examined in the report, acrylonitrile-butadiene-styrene (ABS), is expected to grow at a 4.4% CAGR and reach 10.4 million tonnes by the end of the forecast period. Meanwhile, Brandessence Market Research's report says the ABS market will be valued at nearly US$47 billion by 2027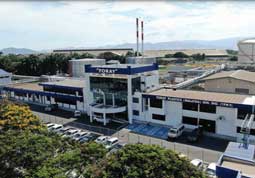 ABS is frequently utilised in electronic housings, automobile parts, consumer goods, pipe fittings, and toys, among other applications. Chemically and impact resistant, the opaque and amorphous thermoplastic has a low melting point. The material is relatively safe and has appropriate mechanical properties like toughness and rigidity.
Citing the Brandessence Market Research report, the increasing adoption of ABS in the automotive sector, as well as in construction, electronics, and other industries, is a major factor driving the market forward.
Having said the above, resin makers' capacity expansion throughout this time has been both risky and strategic.
Taking advantage of this market growth, Toray Plastics (Malaysia) Sdn Berhad (TPM) has commenced expanding its global production and distribution capacity of its Toyolac ABS resin transparent grade at its new facility in Penang, Malaysia.
The new factory will increase production and distribution capacity by 75,000 tonnes/year to 425,000 tonnes/year. Toray Group currently produces 497,000 tonnes/year of ABS at its Chiba Plant in Japan. The company says it is expanding its global manufacturing, including its TPM plants, to increase sales in important Chinese and Southeast Asian markets, as well as meet increased demand in Europe, the US, and India.
Toyolac ABS grades include clear ABS grades with improved anti-static, scratch, and chemical resistance. According to TPM, they are lightweight, durable, and easily processable, with mechanical, chemical, electrical, and colouring properties.
Invista envisages nylon growth in China
The need for nylon (PA) 6,6 polymer has risen drastically in recent years. The estimated CAGR for nylon 6,6 through 2029 is approximately 2% globally and 4% for China*.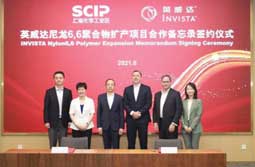 In view of this, Invista Nylon Chemicals (China) Co. plans to double its current nylon 6,6 polymer production at Shanghai Chemical Industry Park (SCIP) and signed a memorandum of cooperation with SCIP recently. Following a 40,000-tonne/year capacity increase in 2020, this new increased production, with an investment of US$230 million, will double the plant capacity to 400,000 tonnes/year and strengthen its integrated nylon 6,6 value chain in China. The new capacity will also enable Invista to more quickly respond to the growing demand for engineering plastics in automotive, electrical and electronics, and other application fields.
The company expects China's demand for nylon products will account for more than half of the total production and consumption of nylon in the Asia-Pacific region and is expected to become the world's largest nylon consumer.
The additional capacity will support the development of engineering polymer, industrial and apparel segments, and satisfy the downstream application requirements for nylon 6,6 products and solutions, including stronger mechanical properties, higher temperature resistance, and higher heat resistance.
Automotive applications for fuel efficiency
The automotive and transportation industries employ engineering plastics to meet their needs for reducing vehicle weight to improve fuel efficiency, recyclability, and ease of processing. Thus, these industries are projected to be the largest end-use industries for engineering plastics.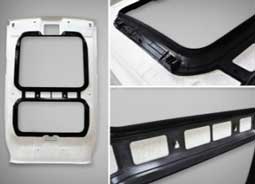 To say the least, industry leaders are tackling the challenge of developing lighter car parts. As an example, roof frames built using Germany-based BASF's Ultradur High Speed polybutylene terephthalate (PBT) material were developed in collaboration with Grupo Antolin, a Spain-based supplier of vehicle components. According to the firms, using Ultradur High Speed in the roof structure resulted in weight savings of up to 60%, compared to traditional solutions, and reduced carbon emissions.
The easy-flowing PBT is BASF's first engineering plastic to be TÜV-certified for eco-efficiency. This new material's good flowability also reduces the cost of producing injection-moulded components.
The partners' newly created panorama roof is integrated into the car's ceiling trim (called the headliner), which is composed of BASF's Elastoflex E 3943/134, a light PU material. A structural bracket supports the actual sunroof opening in the headliner. This was previously made of heavy steel, but it has since been replaced with Ultradur PBT. The engineering plastic demonstrates mechanical qualities in addition to its high dimensional stability.
Meanwhile, compatriot materials firm Lanxess has developed a hollow-profile hybrid technology to help advance vehicle interiors with lightweight solutions. Metallic hollow profiles can be functionalised on ordinary injection moulding machines with plastic compounds using this new lightweight design technology.
Cross car beams, coupling rods, stabilisers, and seat elements are some of the potential applications in the automotive industry.
The hollow-profile hybrid technology is a step forward from the conventional plastic-metal composite technology (hybrid technology) that uses sheet metal. The new technology's main advantage is that it allows processors to produce with short cycle times, which is typical of injection moulding in high-volume efficient production.
Lanxess offers highly reinforced PA6 types for hollowprofile hybrid technology, such as the easy-flowing Durethan BKV60H2.0EF DUS060, which has a short glass fibre content of 60% by weight.
Lanxess evaluated how employing the compounds pay off in the construction of an automotive cross car beam, made 30% lighter than an all-steel construction. Typical load situations and component attributes, such as vibration behaviour and steering wheel stiffness in the direction of gravity forces, were calculated. Additionally, the component also demonstrates the technology's potential for implementing cost-saving functional integration.
(PRA)
---
Subscribe to Get the Latest Updates from PRA Please click here
©2021 Plastics and Rubber Asia. All rights reserved.

©2020 Plastics and Rubber Asia. All rights reserved.
Home
Terms & Conditions
Privacy Policy
Webmail
Site Map
About Us
SOCIAL MEDIA