Investments: BASF/Shanshan battery materials jv in China; SK Global Chemical rebrands as SK Geo Centric, to invest US$4 bn into green materials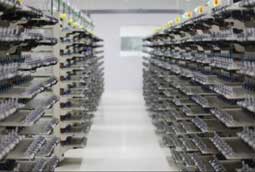 Following the approval of all relevant authorities, German chemicals firm BASF and Shanshan have formed the joint venture BASF Shanshan Battery Materials Co., Ltd. The new entity will be majority owned by BASF (BASF 51% and Shanshan 49%).
The newly formed company has four sites in Hunan and Ningxia, China, with more than 1,600 employees. It already has a strong position in the battery materials value chain including raw materials, precursor cathode active materials (PCAM), cathode active materials (CAM) and battery recycling.
BASF and Shanshan will together drive the joint venture's continuous growth in China with the planned annual CAM capacity of 90 kilotonnes by 2022.
BASF brings strong technology and development capabilities, a global operations footprint, as well as strategic partnerships for raw materials supply. Together with Shanshan's extensive experience, comprehensive product portfolio and leading scale-up capability, the joint venture will primarily focus on the rapidly growing electric vehicle (EV) market, while continuously serving global consumer electronic and energy storage segments.
"With this investment in China, we are ideally positioned to serve the world's largest battery market," said Dr. Markus Kamieth, Member of the Board of Executive Directors of BASF. "We will leverage our strong position in China to further accelerate our growth in battery materials globally."
Yonggang Zheng, Chairman of Shanshan, added, "We are looking forward to working together with BASF to further strengthen the new joint venture. Together, BASF and Shanshan will further enhance the joint venture's position in the EV market and provide top-tier products to customers in China and around the world."
BASF has continued to develop its global footprint, focusing on customer proximity, enhancing its product portfolio, and securing sustainable raw materials supply. With the completion of the transaction with Shanshan, BASF has reached a significant milestone in executing its strategic roadmap to build up a global battery materials value chain, equipped with an industry-leading CAM capacity of 160 kilotonnes by 2022. Its global manufacturing and R&D footprint will enable BASF to provide tailor-made cathode active materials to cell manufacturers and OEM customers with efficiency, proximity and synergies in all key markets.
In other news, South Korean chemical firm SK Global Chemical has rebranded as SK Geo Centric to transform its business portfolio to focus more on eco-friendly products such as recyclable plastics. It also plans to invest almost US$4.3 billion by 2025, to expand technology and facilities for recycling plastics, as well as its eco-friendly material business.
The company plans to increase its production capacity of eco-friendly materials to 1.9 million tonnes/year by 2025 from current capacity of 500,000 tonnes/year. It has also announced a plan to recycle 2.5 million tonnes/year of plastics by 2027, equivalent to 100% of its global plastic production.
SK Geo Centric will establish waste plastic recycling facilities at home and abroad in collaboration with partners including PureCycle, Loop Industries and Brightmark. It is considering joint ventures or equity investments as a means for business partnerships, it said.
CEO Na Kyung-soo presented a new direction for the firm, which has engaged in the petrochemicals business since opening the country's first naphtha-cracking plant in 1972.
Utilising three key technologies -- solvent extraction, depolymerisation and pyrolysis -- the company will turn polluted, mixed waste plastic into clean, recycled raw materials, Na explained.
SK Geo Centric estimates that the global recycled plastics market will see a growth of 12% a year by 2030 and reach a size of 600 trillion won by 2050.
"SK Geo Centric will achieve an EBITDA of 600 billion won in green and recycling business, a higher figure than that of its current business, and transform 100% into a financially green company," the CEO said, referring to its earnings before interest, taxes, depreciation and amortisation.
A wholly owned subsidiary of SK Innovation, the company derives much of its revenue from packaging materials as well as interior and exterior materials for automobiles. Its first naphtha cracker in Ulsan shut down permanently last year.
It also operates a naphtha-fed cracker at Ulsan that produces 680,000 tonnes/year of ethylene and 350,000 tonnes/year of propylene. The company also operates 800,000 tonnes/year of paraxylene (PX) and 650,000 tonnes/year of benzene capacity at Ulsan, while its Ulsan Aromatics joint venture with Japanese refiner Eneos has a production capacity of 1million tonnes/year of PX and 600,000 tonnes/year of benzene.
(PRA)
---
Subscribe to Get the Latest Updates from PRA Please click here
©2021 Plastics and Rubber Asia. All rights reserved.

©2020 Plastics and Rubber Asia. All rights reserved.
Home
Terms & Conditions
Privacy Policy
Webmail
Site Map
About Us
SOCIAL MEDIA