Recycling: PureCycle/SK Geo invest in PP recycling plant in Asia; LyondellBasell/Shakti Plastic to advance recycling of PP/PE in India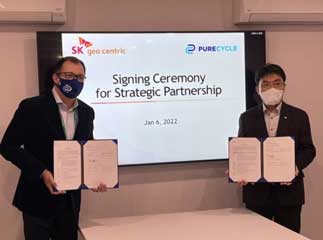 South Korean PP producer SK Geo Centric (SKGC) has tied up with PureCycle Technologies to operate the first PP recycling plant in Asia, in Ulsan, South Korea, with a capacity of up to 60,000 tonnes/year. The plant, which is expected to be completed by the second quarter of 2025, will turn contaminated plastic feedstock into ultra-pure recycled (UPR) resin that can be infinitely reused and recycled.
Each company will have 50/50 ownership of the joint venture. SKGC will bring marketing capabilities related to market development, strategy, and sales to the venture while PureCycle will provide its patented purification recycling technology/IP and contribute technical capabilities.
PureCycle says it is uniquely capable of removing odours, colours and other contaminants from PP waste feedstock and transforming it into a UPR resin that can be continuously reused. PureCycle is close to completing its first purification plant in Ironton, Ohio, and broke ground on a second recycling facility in Augusta, Georgia earlier this year.
SKGC and PureCycle will move forward with plans to open the facility by 2025. PureCycle has also agreed to provide SKGC with certain first rights to participate with PureCycle should PureCycle pursue expansion in the Asian region. This agreement is expected to expand SKGC's global market reach.
Na Kyung-soo, CEO of SKGC, said, "Asia's first commercial production of ultra-pure recycled PP is in sight. This will take SK geo centric to the next level." He added, "We will continue to contribute to making Korea play a key role in the rapidly growing global recycling industry."
Dustin Olson, CEO of PureCycle, commented, "We are thrilled to be working with SK geo centric on this exciting project. This new polypropylene purification plant – the first of its kind in Asia – will not only recycle plastic waste in South Korea, but also supply a new market with premium recycled plastic that can be utilised to develop a diverse array of consumer products. This announcement marks a critical milestone in the fight to tackle the plastic pollution problem on a global scale."
PP is one of the most widely used plastics and can be found in a variety of household and commercial products like food packaging and toys, automotive interior materials, and home appliances. Since the conventional mechanical plastic recycling process cannot fully remove odors and contaminants from PP waste, most PP ends up being incinerated or shipped to landfills. With this new venture, SKGC and PureCycle hope to end this cycle and increase the amount of plastic that is recycled and reused in Asia and beyond.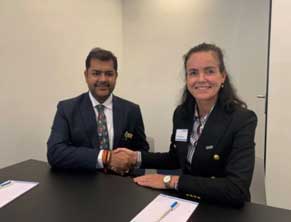 In related news, LyondellBasell Industries and Indian scrap recycler Shakti Plastic Industries have signed a Memorandum of Understanding (MoU) to form a joint venture to build and operate a fully-automated, mechanical recycling plant in India. The plant is intended to process rigid packaging post-consumer waste and produce 50,000 tonnes/year of recycled PE and PP, equivalent to the single-use plastic waste produced by 12.5 million citizens.
It is envisaged that the new facility will become the largest mechanical recycling plant in India and is estimated to start at the end of 2024. LyondellBasell will market the recycled products produced by this joint venture adding volume to its Circulen Recover range of existing PE and PP materials to help meet increasing demand by converters and brand owners in India for recycled polymer materials.
"The proposed joint venture will allow us to address the issue of plastic waste in the second most populated country in the world and expand our circular polymer product offering to India," says Yvonne van der Laan, LyondellBasell Executive Vice President, Circular and Low Carbon Solutions. "Combining our respective expertise with Shakti Plastic Industries will create an innovative system that can be scaled as the circular economy grows."
Once established, the joint venture will leverage each partner's strengths. With the development of a recycling infrastructure in India, Shakti Plastic will provide structure and formality to the waste collection process to secure materials to be used at the new venture. LyondellBasell will apply its l plastic production technology, experience in product development and knowledge of the polymer markets in India.
"The circular economy will increasingly develop into a critical part of the plastic value chain in India, requiring solutions across the value chain to develop a sustainable world of plastic recycling." says Rahul V. Podaar, Managing Director of Shakti Plastic Industries. "As we move towards becoming a value player in the circular economy, we will continue to seek opportunities for future growth. Together with LyondellBasell, we will be on the forefront in India taking significant steps to recycle rigid plastic waste which supports the government initiative to reuse recycled plastic in packaging applications."
(PRA)
---
Subscribe to Get the Latest Updates from PRA Please click here
©2022 Plastics and Rubber Asia. All rights reserved.

©2022 Plastics and Rubber Asia. All rights reserved.
Home
Terms & Conditions
Privacy Policy
Webmail
Site Map
About Us
SOCIAL MEDIA