Recycling: Cyclyx, ExxonMobil and LyondellBasell to build US$100 mn sorting/recycling facility in Houston; Borealis to build 60 kt mechanical recycling plant in Austria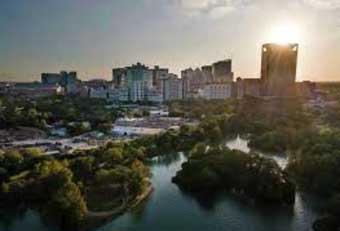 Cyclyx International, ExxonMobil and LyondellBasell are to build a plastic waste sorting and processing facility in the Houston, US, area, with commercial start-up expected in 2024. The facility will be designed to produce 150,000 tonnes/year of feedstock, supplying ExxonMobil and LyondellBasell recycling projects as well as mechanical recycling markets. Total investment for the first circularity centre is estimated to be US$100 million, contingent upon a final investment decision in early 2023.
The Cyclyx Circularity Centre will produce feedstock for both mechanical and advanced recycling. The centre will leverage new technologies to analyse plastics based on their composition and sort them according to customer specifications for their highest and best reuse.
"To help increase the overall US recycling rate and meet growing customer demand for circular products, more investment is needed by governments and industry to collect and sort waste," said Dave Andrew, vice president of new market development at ExxonMobil. "With this new facility, we are making a substantial investment in plastic waste sorting infrastructure to accelerate our advanced recycling efforts in Baytown and along the Gulf Coast."
"We are growing our global recycling capacity and actively pursuing opportunities to help capture more plastic waste from landfills in order to make it suitable for recycling," said Yvonne van der Laan, executive vice president of circular and low-carbon solutions at LyondellBasell. "This agreement is a perfect example of how collaboration across the value chain can help close the gaps to make a circular economy possible, such as access to plastic waste feedstock."
Cyclyx, ExxonMobil and LyondellBasell are members of the Houston Recycling Collaboration whose mission is to help the City of Houston significantly increase plastic recycling rates, leveraging new technologies and infrastructure, such as this Cyclyx facility, to recycle nearly all plastics.
As of September 2022, ExxonMobil has processed more than 6,700 tonnes of plastic waste at its Baytown facility, recycling materials that may have otherwise gone to landfill or incineration. When the facility's expansion is complete later this year, it will be among North America's largest advanced recycling facilities, with an annual capacity to recycle 30,000 tonnes of plastic waste. Leveraging ExxonMobil's existing manufacturing assets, plans are underway to build up to 500,000 tonnes/year of recycling capacity by year-end 2026 across multiple sites globally.
LyondellBasell has a goal to produce and market 2 million tonnes/year of recycled and renewable-based polymers by 2030. To deliver on this ambition, the company recently announced a new organisational structure including a Circular and Low-Carbon Solutions business segment and is strategically investing along the value chain.
Cyclyx has a goal of processing more than 650,000 tonnes/year of waste plastic by 2026. Consistent with this goal, Cyclyx is focused on its mission to help increase the plastics recycling rate from 10 to 90% by getting the right feed to the right technology, creating a new supply chain for waste plastic, and diverting post-use plastic from landfill.
In related news, Austrian chemical firm Borealis says it is designing a commercial-scale 60,000 tonnes/year mechanical recycling plant to be located in Schwechat, Austria, by 2025. The plant will be based on Borealis' own Borcycle M technology, which transforms polyolefin-based post-consumer waste into high-performance polymers suitable for demanding applications.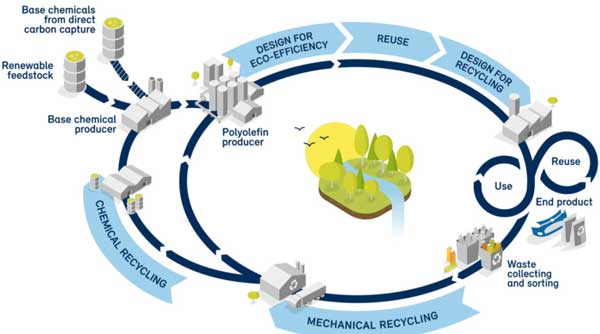 The new plant will have capacity to produce over 60 kilotonnes/year of mechanical recycled polyolefin solutions and compounds. For customers and end-consumers, this will mean an increase in the availability of high-quality recycled plastic products.
The decision was based on positive feedback from the market on recycled polyolefins delivered by a demonstration plant based on the same technology. This plant was located in Lahnstein, Germany, and operated by Borealis, Tomra and Zimmerman.
Mechanical recycling plays a key role in Borealis' approach to achieving circularity, as shown in the integrated cascade model. The new plant will expand Borealis' capabilities in this area, following on from the acquisitions of plastic recyclers mtm plastics in 2016, and Ecoplast Kunstoffrecycling in 2018.
The front-end engineering design (FEED) stage for the plant will be carried out by Nextchem, specialists in the field of green chemistry and technologies for the energy transition. Upon successful completion of FEED phase, Borealis expects to take a final investment decision in the second half of 2023 and start construction by the end of 2023. The first volumes of recycled polyolefin products are expected in 2025.
The plant will support Borealis to deliver on its sustainability commitments, which target a supply capacity of 600 kilotonnes of circular products and solutions globally by 2025, further increased to 1.8 million tonnes by 2030.
(PRA)
---
Subscribe to Get the Latest Updates from PRA Please click here
©2022 Plastics and Rubber Asia. All rights reserved.

©2022 Plastics and Rubber Asia. All rights reserved.
Home
Terms & Conditions
Privacy Policy
Webmail
Site Map
About Us
SOCIAL MEDIA