Kraiburg TPE offers new innovative recycled TPEs for Asia-Pacific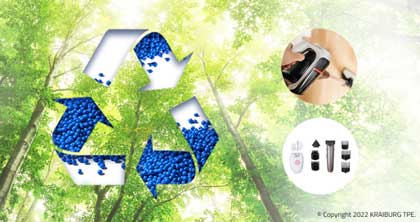 KRAIBURG TPE, a global TPE manufacturer of thermoplastic elastomer products and custom solutions for a variety of industries, is offering its latest Thermolast R RC/PCR/AP and RC/FC/PCR/AP sustainable TPE compounds for universal industrial and consumer applications.
The series is a new range of PCR TPE compounds targeted specifically for the industrial sector in the Asia-Pacific market.
Low Shwu Ping, Product Developer, says, "Kraiburg TPE is raising sustainability awareness with a mature alternative through our Asia Pacific targeted RC/PCR/AP & RC/FC/PCR/AP series. This new innovation is our multi-tool in the field of compounds comprising of post-consumer recycled content."
Engineered for universal industrial, consumer applications
Kraiburg TPE's Thermolast R RC/PCR/AP series is adaptable to universal industrial applications, thanks to its non-sticky surface and comfortable grip, among many other advantages.
The RC/PCR/AP series includes compounds with 25-48% post-consumer recycled content (harness-dependent) for a wide range of applications requiring adhesion to PP in multi-component parts or single component parts.
The RoHS-compliant RC/PCR/AP series has a hardness range of 50-90 Shore A.
With good mechanical properties and flowability, the series is ideal for tool handles (hand and power tools) and grip applications, as well as grommets, functional and design elements, connectors, cable clips, and electric and electronic components.
Furthermore, the Thermolast R RC/FC/PCR/AP series, with post-consumer recycled content of 9-38% (hardness-dependent), are targeted specifically for consumer applications in the Asia Pacific market.
The series offers good adhesion with PP through the multi-component injection molding process, allowing for flexibility in product designs.
The series complies with food contact regulatory standards, (FDA) CFR21 conform as well as REACH SVHC and RoHS compliances.
It comes in natural and translucent colors allowing in-house pre-coloration. With a wide range of colors available, the materials can be colored in many different ways to deliver colourful, trendy and food-safe applications.
The sustainable series features low odour and good haptics, improving functional designs, thereby allowing manufacturers to be more creative with their product applications for household articles, razors, toys, grip applications, toothbrushes and more. (Press Release)
(PRA)
---
Subscribe to Get the Latest Updates from PRA Please click here
©2022 Plastics and Rubber Asia. All rights reserved.

©2022 Plastics and Rubber Asia. All rights reserved.
Home
Terms & Conditions
Privacy Policy
Webmail
Site Map
About Us
SOCIAL MEDIA