Green tie-ups: Huhtamaki/Milliken design recyclable, mono-material HDPE tube; CJ Biomaterials and Yuhan-Kimberly to use PHA technology in products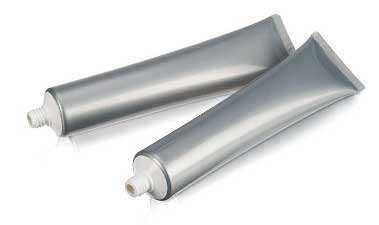 Additives supplier Milliken & Company is partnering with Finnish flexible packaging giant Huhtamaki Group to develop a more sustainable, mono-material laminate for use in tubes targeting cosmetics, toothpaste and other personal-care applications.
With the market's keen focus on recycling and circularity, it is more vital than ever to find technologies that can eliminate the typical metalised (usually aluminium) layers while maintaining the necessary barrier properties, especially against water vapour and oxygen transmission needed in personal-care applications.
At K show. Milliken will display HDPE tubes produced using Huhtamaki laminates optimised with Milliken UltraGuard Solutions technology
By improving the barrier properties of HDPE film by up to 50%, UltraGuard Solutions contribute to sustainability by enabling more mono-material construction of popular products such as stand-up flexible pouches and tubes and making them ultimately more recyclable. These improved barrier properties also allow for downgauging of the PE film, resulting in a lighter-weight end product and a reduction in the amount of resin needed to achieve the desired result.
Huhtamaki's work on this project fits in with its blueloop initiative for sustainable, flexible packaging. "The tube resulting from this joint development work is opaque with a silver shine, making it ideal for beauty product applications," said Dr. Detlev Schulz, Senior Manager - Sustainability and Business Development for Huhtamaki's Global Tube Laminates business. "White would work as well, offering outstanding moisture barrier and improved oxygen transmission for all who don't need a shiny silver option." The most likely end uses will be in 40 to 200 ml tubes.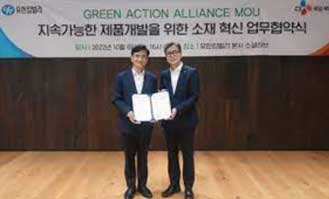 In other news CJ Biomaterials, a division of South Korea-based CJ CheilJedang, says that it is partnering with lifestyle innovation company Yuhan-Kimberly Co (Seoul, South Korea) to produce sustainable products using polyhydroxyalkanoate (PHA), an eco-friendly, biodegradable and compostable biopolymer technology. CJ Biomaterials has signed a Memorandum of Understanding (MOU) to participate in Yuhan-Kimberly's Green Action Alliance, created to foster partnerships between organisations that work together to introduce innovative solutions using eco-friendly materials and products that accelerate the use of sustainable materials as well as the transition to a circular economy.
CJ Biomaterials is one of a limited number of companies that can produce PHA at commercial scale, after recently inaugurating a PHA production facility in Pasuruan, Indonesia. The company will initially collaborate with Yuhan-Kimberly to develop consumer goods such as diapers, wet wipes and various packaging materials.
This is the latest in a series of collaboration agreements entered into by CJ Biomaterials. In August, the company signed an MOU with the global hotel chain Accor to begin developing hotel amenities that are made with PHA. Through this agreement, the two companies are working together to replace single-use plastic amenities that are provided to all Accor hotel guests.
Earlier this year, CJ Biomaterials also signed a letter of intent with NatureWorks, a biomaterials company, to develop sustainable materials solutions based on NatureWorks' Ingeo polylactic acid (PLA) technology and CJ Biomaterials' PHACT amorphous PHA technology. Amorphous PHA is a softer, more rubbery version of PHA that offers fundamentally different performance characteristics than crystalline or semi-crystalline forms of PHA. It is certified biodegradable under industrial compost, soil (ambient), and marine environments.
"We plan to expand the use of eco-friendly biodegradable materials to replace petroleum-based plastics," said Hwang Yun-il, CEO of CJ CheilJedang's Bio Business Division. "Single-use products in our daily lives will be the starting point, and we will continue to seek relationships with companies that share our objective to develop products using sustainable materials like PHA."
Yuhan-Kimberly has set an ESG management goal of achieving more than 95% of sales from sustainable products by 2030.
(PRA)
---
Subscribe to Get the Latest Updates from PRA Please click here
©2022 Plastics and Rubber Asia. All rights reserved.

©2022 Plastics and Rubber Asia. All rights reserved.
Home
Terms & Conditions
Privacy Policy
Webmail
Site Map
About Us
SOCIAL MEDIA