Expansions: Röhm/OQ Chemicals break ground on MMA plant in US; Teijin Thai's new facility for polyester filaments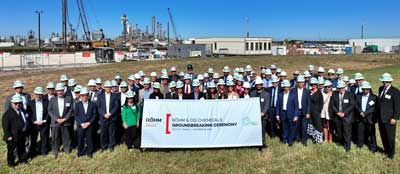 Methacrylate manufacturer Röhm, a portfolio company of private equity firm Advent International, and OQ Chemicals recently broke ground on a new world-scale methyl methacrylate (MMA) plant. Once completed in early 2024, the new plant will produce 250,000 tonnes/year of MMA.
The new facility will be constructed by Röhm at OQ Chemicals' production site at Bay City, Texas. OQ Chemicals will supply the new plant with key raw materials and provide site services and utilities to Röhm. To this end, OQ Chemicals says it has invested significantly in additional capacity for propionaldehyde and local infrastructure.
Röhm will employ its latest proprietary production technology, LiMA (Leading in Methacrylates).
Among other uses, MMA is an essential precursor for Röhm's Plexiglas (branded in the Americas as Acrylite) material and for multiple applications ranging from coatings and adhesives to medical products and road markings. Methacrylate monomers and their derivatives are important precursors for industries such as the automotive, coatings and construction industries.
Dr. Oliver Borgmeier, CEO of OQ Chemicals, said: "With our project 'Propel', short for 'Propyls Elevated', we are expanding portfolio applications whilst supporting Röhm's new MMA plant with key raw materials and site services. Our business in North America is strong, sustained, and successful, and the Bay City site is a core site for OQ Chemicals. Our significant investment in additional capacity for propionic aldehyde and infrastructure there emphasizes its importance and the trust we put in the Bay City site and its employees."
"This groundbreaking marks a milestone of the cooperation between our organisations. As we say at OQ: Together, we perform and grow. Our joint project fosters the sustainable growth of our companies and boosts their performance, building on the expertise and the great people that all parties bring to the table," added Hilal Al Kharusi, Chief Executive Commercial & Downstream at OQ, the parent company of OQ Chemicals.
Part of Oman-based integrated energy company OQ, OQ Chemicals (formerly Oxea) is a global manufacturer of Oxo intermediates and Oxo performance chemicals such as alcohols, polyols, carboxylic acids, specialty esters, and amines. OQ Chemicals employs more than 1,400 people worldwide at its production sites in North America, Europe, and Asia.
With 3,500 employees and 13 production sites worldwide, Röhm is one of the leading manufacturers in the methacrylate business. The medium-sized company with branches in Germany, China, the US, Mexico, and South Africa.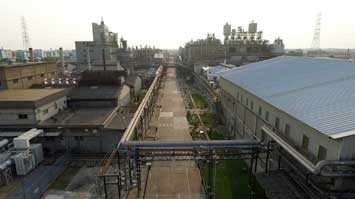 In other news, Japan's Teijin Frontier Co., Teijin Group's fibre and products converting company, says that its core base for polyester fibre manufacturing, Teijin Polyester (Thailand) Limited (TPL), launched an automated facility for the production of polyester filaments. Operation began this month.
The new facility is equipped with multi-spindle spinning machines for polyester multifilament yarn and machines capable of adding functional agents. Teijin Frontier invested approximately JPY1 billion to construct the facility, which is expected to produce 1,500 tonnes of polyester filaments annually by the fiscal year ending in March 2024.
The facility will enhance the added value of TPL including through spinning and an automated process for the uniform drying of multifilament. TPL will effectively use the new facility to produce Teijin Frontier's proprietary polyester filaments for apparel and interior applications, such as the Octa highly modified hollow-core fibre and a water-absorbing quick-drying yarn.
Teijin Frontier expects to expand the range and improve the functionality of its Ecopet recycled polyester fibres by integrating the new facility with a separate facility that started operating at TPL in January to convert used plastic bottle flakes sourced in the Thai market into recycled polyester chips.
The new facility accommodates various special polymers and recycled raw materials and additionally can add functional agents to raw yarn for the production of new types of functional polyester filaments.
(PRA)
---
Subscribe to Get the Latest Updates from PRA Please click here
©2022 Plastics and Rubber Asia. All rights reserved.

©2022 Plastics and Rubber Asia. All rights reserved.
Home
Terms & Conditions
Privacy Policy
Webmail
Site Map
About Us
SOCIAL MEDIA