Expansions: Covestro breaks ground for new aniline plant in Antwerp; BASF breaks ground on new PU laboratory in Mumbai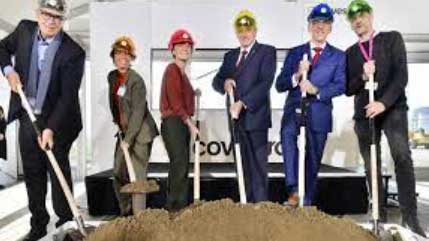 German materials firm Covestro has broken ground in Antwerp, Belgium, for a new world-scale production facility for the manufacture of aniline. With the capacity expansion, the company is strengthening its European production network for the foam component MDI. For this purpose, Covestro is investing more than EUR300 million. The plant is scheduled to be operational – depending on the volatile economic situation – in early 2025. This will create around 40 new jobs.
The basic chemical aniline is an important starting material for many chemical products, including the rigid foam component MDI. The product is mainly used for the production of insulation materials for buildings and refrigeration equipment. Due to the global trend towards sustainability and climate neutrality, the global MDI market is expected to grow by around 6%/year in the medium term. Given the current high electricity and gas prices, especially in Europe, demand for efficient insulation is likely to further increase.
"Even in challenging times, we must not lose sight of our goals. With the expansion of our aniline production, we are addressing the further increase in demand from our customers for energy-efficient solutions for the insulation of buildings and refrigeration appliances. At the same time, by using state-of-the-art technology, we are increasing the energy efficiency of production and thereby the competitiveness of the Antwerp site," says Dr. Klaus Schäfer, Chief Technology Officer at Covestro.
The new plant will use technologies that will help to significantly increase the energy efficiency of production in Antwerp. Currently, around 20% of the steam required on site is covered by using process heat generated during production. The remaining steam is generated using fossil resources. With the commissioning of the new plant, the share of steam generated from process heat will double to 40% of local demand, and the use of fossil fuels will decline. The potential savings correspond to up to 27,000 tonnes/year of CO2 emissions. The new plant thus makes an important contribution to achieving Covestro's goal of being operationally climate-neutral by 2035.
The expansion of aniline production is part of Covestro's global MDI strategy. The aim is to strengthen the production network for MDI in view of a further increase in demand. In Brunsbüttel, Germany, Covestro already commissioned a new plant for the production of MDI using the particularly energy-efficient AdiP technology in 2020. In Tarragona, Spain, a new chlorine production plant based on the likewise particularly energy-saving ODC technology is nearing completion.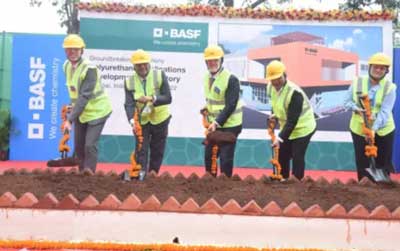 Meanwhile in other news, German compatriot materials firm BASF broke ground on its new Polyurethane Application Development Laboratory in Mumbai, India. The new lab will house applications equipment in an approximately 2,000 sq meter space. To be inaugurated in 2024, the lab will strengthen collaboration with Indian customers from high-growth industries, including consumer appliances, construction, footwear, furniture, and transportation.
BASF says it will offer improved customer support services ranging from troubleshooting to customised formulations, line trials, and customer training sessions. This will help drive innovation with customers alongside the Creation Centre, located at BASF's Innovation Campus in Mumbai.
"As a part of the global innovation network, the lab will enable global and regional BASF teams to work closely with local customers in testing and formulation optimization," said Andy Postlethwaite, Senior Vice President, Performance Materials Asia Pacific. "BASF has been providing technical services to customers, enabling the co-creation of innovative product solutions with its high-performance materials. With our strength in innovation and comprehensive range of high-quality solutions, we help our customers meet increasingly stringent regulatory standards and optimize product properties for their specific needs at an early stage."
"India is one of the fastest growing markets for BASF in the Asia Pacific. The new lab reinforces our commitment to strengthening our product development capabilities and providing fast and advanced technical service for our customers. The investment will enable us better address customer needs for a diverse range of industries," said Krishnamohan Narayan, Managing Director, BASF India Limited and Head, BASF Group Companies in India.
Polyurethanes are used extensively in automotive, construction, and consumer applications and in collaboration with leading brands. For example, moulded flexible polyurethane foam is the backbone of automotive seating and an essential component of user experience in modern vehicles.
Manufacturers of moulded polyurethane foam need high-quality products, constant innovation, and access to a broad selection of raw materials to meet the stringent requirements of OEMs.
(PRA)
---
Subscribe to Get the Latest Updates from PRA Please click here
©2022 Plastics and Rubber Asia. All rights reserved.

©2022 Plastics and Rubber Asia. All rights reserved.
Home
Terms & Conditions
Privacy Policy
Webmail
Site Map
About Us
SOCIAL MEDIA