Country Focus: Asia at the epicentre of global economic recovery
Digitalisation: 4IR and digital economy in ASEAN
The ASEAN region, which includes Brunei, Cambodia, Indonesia, Laos, Malaysia, Myanmar, the Philippines, Singapore, Thailand, and Vietnam, is a large market with a population of 661.9 million people. The expanding trading bloc is the world's fifth largest economy with a total combined GDP of US$3 trillion in 2020, after the US with US$20.9 trillion; China with US$14.7 trillion; Japan with US$5 trillion; and Germany with US$3.8 trillion.
The region has rallied behind the stringent containment measures and economic response during the pandemic. Trade has also been impacted by the pandemic, with imports and exports down 8% in 2020 compared to the previous year.
Given how digitalisation has helped businesses continue operations, despite contactless transactions, adoption of digital technology has become a must.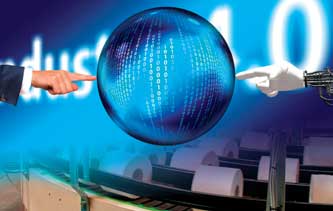 Most recently, Covid-19 has hastened the region's digital shift, as digital technology has proven to be a critical driver of economic activity during the pandemic.
To this end, the ASEAN Comprehensive Recovery Framework (ACRF), ASEAN's wholeof-community exit strategy to Covid-19, which was launched at the 37th ASEAN Summit in November 2020, has sped up the region's digital transition, as digital technology has proven to be a critical driver of economic activity during the pandemic.
Enabling the Fourth Industrial Revolution (4IR) can boost ASEAN's competitiveness by increasing innovation, moving up value chains, creating jobs with better workforce capabilities and skills, lowering capital requirements, and increasing product customisation.
ASEAN's internet user base accounted for 6% of all internet users worldwide in 2010; and in 2021, the number of internet users increased to 440 million, accounting for 75% of the region's population.
Thus, the digital economy in ASEAN's six largest markets – Indonesia, Malaysia, the Philippines, Singapore, Thailand, and Vietnam – is estimated to reach US$309 billion by 2025, up from US$32 billion in 2015, and collectively, is expected to reach US$1 trillion by 2030.
Circular economy: poor waste management in ASEAN
According to the World Economic Forum, over 92 billion tonnes of materials were extracted and processed in 2019, representing roughly half of global carbon emissions.
Efforts to reduce global carbon emissions are obviously impeded by the linear takemake-dispose cycle. Enforcing a circular economy, which is restorative, regenerative by design, and makes effective use of materials and energy to retain their value by reducing waste and using natural resources sustainably, could lead to economic benefits worth up to US$4.5 trillion by 2030.
New product manufacturing from virgin materials can produce 22.8 billion tonnes/year of emissions. Circular economy strategies can nearly double the amount of materials reused, from 8.6% to 17%, while limiting the use of virgin materials. However, the circular economy has not been applied because the percentage of products and materials that are reused is decreasing, while CO2 emissions from natural resource extraction and processing, which account for roughly half of all current GHG emissions, are increasing. By 2050, raw material demand is expected to double.
ASEAN, which is still in its early stages of adopting the circular economy, is coming to grips with resource depletion, unsustainable raw material consumption, flaws in product value chains, and climate change, all of which are affecting the region's economic growth.
Furthermore, the region is plagued by the consequences of poor waste management. According to the United Nations' ASEAN waste management report, the country generates a per capita of 1.14 kg/day of municipal solid waste (MSW). Indonesia produces the most municipal waste, generating 64 million tonnes/year, followed by Thailand's 26.8 million tonnes/year; and Vietnam's estimated 22 million tonnes/year.
Recycling: recovery of US$6 billion plastic materials
According to a World Bank report on Southeast Asia's plastic circularity, less than 25% of plastics available for recycling are recycled into valuable materials in Malaysia, the Philippines, and Thailand; while over 75% of the material value of the plastics is lost, equating to US$6 billion/year across the three countries, It is due to improper waste management and poor recycling of singleuse plastics. This is a challenge the region must address.
Malaysia, which is home to about 1,300 plastic manufacturers, has a low recycling rate, owing to its focus on PET bottles, which are easy to collect and have a high value. A vast bulk of waste, such as food packaging, polystyrene products, and straws, go unrecycled due to lack of technology and an unappealing profitability.
Moreover, there is a lack of local demand for recycled plastics as global oil prices (which affect the prices of virgin plastics) have remained volatile. Recycled plastics have to be 15-30% cheaper than virgin resins in order to be competitive.
According to a World Bank study, Malaysia loses 81% of the material value of PET, PP, HDPE, and LDPE plastics, which are primarily used for single-use packaging.
Meanwhile, PVC, which is also widely used in the country's building and construction industries, has longer application lifetimes of up to 20 years and is typically treated as construction and demolition (C&D) waste, and thus, handled better.
In response, Malaysia developed the Roadmap Towards Zero Single-Use Plastics 2018-2030, to regulate use of disposable plastics, increase uptake of biodegradable and compostable products, including single-use medical devices and consumer products. It will also enforce a Federal pollution levy on plastic manufacturers, which is set to begin in 2022. Furthermore, more R&D funding will be directed toward the development of alternative ecofriendly products.
Philippines, which is responsible for an estimated 0.75 million tonnes/year of mismanaged plastics entering the ocean, is working to increase its plastic recycling rates, which are currently at 22%.
With 78% of unrecovered material value, the country's economy loses approximately US$790-890 million/year. In 2019, only 28%, or 292,000 tonnes of the 1.1 million tonnes/year of key resins consumed, including PET, PP, HDPE, and LLDPE/ LDPE, were recycled. PET has the highest recycling rate in packaging, at 45%.
Meanwhile, LDPE/LLDPE, used in a variety of applications such as electronics, automotive, and construction packaging sectors, are the least collected and recycled, since they have longer usage cycles, thus making collection difficult.
To close this recycling gap, several obstacles must be overcome, including high logistics costs, which prevent recyclers from sourcing feedstock locally; and energy costs, which are up to 67% higher than regional peers like Thailand and Vietnam, reducing profitability for most recyclers that use low-efficiency equipment. Also on the agenda is the recycling mix, which contains a high proportion of low-value and difficult-to-recycle plastics, plus a lack of incentives to invest in more efficient recycling mechanisms and recyclers' inability to meet market demand for quality and scale.
Meanwhile, Thailand, which has the largest petrochemical sector in ASEAN and the 16th largest in the world; and a plastics industry that accounted for 6.1% of its GDP in 2019, is focusing on plastic waste management as part of its efforts to strengthen trade.
In 2018, it consumed 3.49 million tonnes of plastics/year, 42% of which is used for packaging; and recycled only 17.6% to 616,000 tonnes/year of key plastic resins such as PET, HDPE/LDPE and PP, resulting in an 87% material value loss amounting to around US$4 billion/year. PET has the highest recycling rate (46%) of the resin types.
Thailand's National Plastic Waste Management Roadmap 2018-2030 aims to recycle all plastics to boost material value recovery. This can be accomplished by increasing the efficiency of postconsumer plastic waste collection and sorting, as well as mechanical and chemical recycling capacities; setting recycled content targets across all major end-use applications; mandating "design for recycling" standards; and implementing waste management policies.
(PRA)
---
Subscribe to Get the Latest Updates from PRA Please click here
©2022 Plastics and Rubber Asia. All rights reserved.

©2022 Plastics and Rubber Asia. All rights reserved.
Home
Terms & Conditions
Privacy Policy
Webmail
Site Map
About Us
SOCIAL MEDIA