Reifenhäuser/Maku tie up for automation systems for slot dies and coextrusion adapters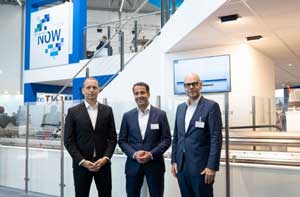 At the recently concluded K2022 show, the world's largest plastics show held in Germany, there was plenty on show in terms of new technology, as well as deals concluded. One of these is between German extrusion machinery company Reifenhäuser Extrusion Systems (RES) - the Reifenhäuser Group's business unit specialising in extrusion components - and Maku. The aim of the cooperation is the joint marketing and further development of the automation system designed by Maku for coextrusion adapters and slot dies.
The so-called PAM system (precise, autonomous, mechatronic) is available immediately and exclusively as an automation option for new Reifenhäuser dies and adapters, as well as for aftermarket dies across all manufacturers.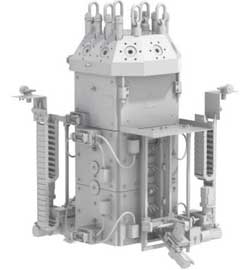 PAM enables producers in the field of flat film and sheet production as well as extrusion coating to precisely control the entire hot part (coextrusion adapter and die) via the line's control panel. This is said to be significantly faster and more accurate than conventional control by hand or expansion bolt automation. It enables faster start-up of good production, higher output with lower energy consumption, and thus significantly improved overall equipment efficiency (OEE).
The decisive advantage lies in the use of motorised manual adjustment bolts that replace conventional thermal expansion bolts.
Reifenhäuser says it presented the system for the first time at the K2022.
Uwe Gaedike, Managing Director of Reifenhäuser Extrusion Systems, explains, "The technology and experience of Maku ideally completes our hot part competence. As RES, we manufacture extruder, coextrusion adapter and die completely in-house and thus know the entire extrusion process. With the automation option, we can now offer our customers a perfectly coordinated overall system that is second to none. Together with Maku, we will establish the technology in the market and continuously develop it further. The special thing about this is that we also offer it as part of our refurbishment portfolio for all lines in the market."
Reto Maeder, Managing Director and Co-Owner of Maku AG, adds, "We are very pleased to have found a strong partner in Reifenhäuser to now market our technology even more effectively globally. Together we will exploit the full potential of our cross-process know-how and create clear competitive advantages for our customers. This is nothing less than the best hot part competence combined with the highest possible level of automation in the market."
Maeder also said that Maku will continue with its retrofitting business on existing dies. "Reifenhäuser's worldwide service network puts us in a position to offer our system to even more customers outside Europe," he concluded.
Maku was founded in 1983 by Robert Maeder, specialising in the field of flat film and sheet extrusion lines for almost 40 years. The company is managed by second generation Reto Maeder.
(PRA)
---
Subscribe to Get the Latest Updates from PRA Please click here
©2022 Plastics and Rubber Asia. All rights reserved.

©2022 Plastics and Rubber Asia. All rights reserved.
Home
Terms & Conditions
Privacy Policy
Webmail
Site Map
About Us
SOCIAL MEDIA