Blown Film: ExxonMobil, Thong Guan & Newton R&D work on recycling of collation shrink films
Collation shrink films may no longer need to be designated as single-use plastics, say three companies that have successfully innovated a solution for mechanical recycling of shrink films containing 50% recycled material content.
Some collation shrink films may no longer need to be designated as single-use plastics, thanks to an innovative solution that may help enable them to be mechanically recycled multiple times without compromising their performance.
The solution, enabling collation shrink films that incorporate 50% recycled content, has passed "proof of concept", meaning the films met required performance parameters after three months of testing in a tripartite collaboration involving materials firm ExxonMobil, Malaysian processor Thong Guan Industries Berhad and Malaysian test centre, Newton Research and Development Centre.
"Shrink films play a critical role in keeping food and drinks safe to consume, but are typically discarded after use. This is due to the lack of collection and sorting amenities and perceived processing challenges posed by recycled plastics," shares Chan Kwee Lin, ExxonMobil's Asia Pacific Advance Recycling and Sustainability Market Manager.
"ExxonMobil is developing solutions to improve the recyclability of these essential films. We hope this will change the mindset of the industry, encourage more companies to extract value and extend the use of shrink films not once, but repeatedly, therefore potentially reducing a source of plastic waste in the world," he adds.
The tripartite collaboration was initiated by Thong Guan, a leading packaging film manufacturer in Malaysia and Southeast Asia. Its senior general manager, David Ang, explains the project's origin: "The primary value we see in using recycled shrink films is that it can contribute to less materials being sent to landfills. Alongside the potential recyclability of polyethylene (PE) shrink film, it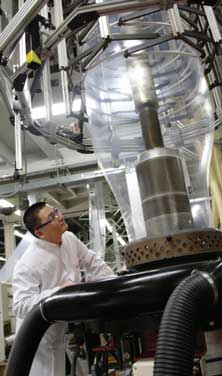 is an excellent opportunity to help support our vision of closing the plastic loop. Our primary mission, leveraging the results of this project, is to demonstrate that we can still retain quality performance in shrink films by incorporating post-consumer recycled (PCR) content. This, in turn, supports our company's effort to promote plastic circularity."
The incorporation of recycled content (especially PCR) in collation shrink films, however, can lead to challenges.
When producing collation-shrink films from mechanically recycled PE, there are three stages where the raw material is subject to heat exposure: film production, shrink tunnel operations and film re-pelleting for recycling.
Each of these exposures to high heat and shear rate can lead to polymer chain degradation and the lowering of mechanical performance.
If one were to continually collect, sort, and recycle the same collation shrink film, it would mean that the same recycle stream would be going through these heat exposures again and again, adding further challenges to maintaining film properties via mechanical recycling.
(PRA)
---
Subscribe to Get the Latest Updates from PRA Please click here
©2022 Plastics and Rubber Asia. All rights reserved.

©2022 Plastics and Rubber Asia. All rights reserved.
Home
Terms & Conditions
Privacy Policy
Webmail
Site Map
About Us
SOCIAL MEDIA