PET recycling: Gr3n closer to offering PET recycling with US$8 mn financing; Carbios launches demo plant for PET recycling
Swiss recycling firm Gr3n says that it is closer to its goal of being a supplier of recycled PET and polyester thanks to a financing of US$7.42 million Series B round of raised from Chevron Technology Ventures, and Standex International, among other investors. With this round, Gr3n, whose technology breaks down PET and polyester plastic to allow for potentially endless recycling loops, has now raised a total of approximately US$8.84 million in less than a year.

Gr3n developed an innovative process, based on the application of microwave technology to alkaline hydrolysis, which provides an economically viable approach to the recycling of PET, allowing the industrial implementation.
The input materials for the process can be post-consumer and/or post-industrial polyesters, both from bottles (coloured, colourless, transparent, opaque) and textiles (100% polyester but also with up to 30% of other materials like PU, cotton, polyether-polyurea, etc.). The reaction output is a mixture of building blocks derivatives, which are then isolated and purified. In principle, monomers can potentially be re-polymerised endlessly to provide brand new virgin PET or any other polymer using one of the monomers. Polymers obtained can be used to produce new bottles/trays and/or new garments, essentially completely displacing feedstock material from fossil fuels, as the recycled product has the same functionality as that derived traditionally. This means that Gr3n can potentially achieve bottle-to-textile, textile-to-textile, or even textile-to-bottle recycling, moving from a linear to a circular system.
To accelerate the commercialisation and implementation of its technology throughout Asia, it recently signed a MOU with South Korea's Kolon Industries, under which gr3n will support Kolon Industries to manufacture recycled PET chips for various purposes using its eco-friendly renewable materials.
Gr3n's process has the potential to change how PET is recycled worldwide, allowing huge benefits for both the recycling industry and the entire polyester value chain. Many efforts have been made to transfer chemical recycling from research labs to the manufacturing industry in the past, but economic aspects have persistently blocked adoption of proposed solutions. Thanks to the DEMETO (Depolymerisation by Microwave) Technology developed by Gr3n, this approach is now feasible and makes Gr3n one of the few companies potentially able to supply a reliable chemical recycling solution that closes the PET lifecycle.
Barbara Burger, Vice President, Innovation and President of Technology Ventures at Chevron, said, "This is the latest investment from our recently launched US$300 million Future Energy Fund II, which focuses on industrial decarbonisation, emerging mobility, energy decentralisation, and the growing circular carbon economy.
Chevron Technology Ventures was launched in 1999 to identify and integrate externally developed technologies and new business solutions with the potential to enhance the way Chevron produces and delivers affordable, reliable and ever-cleaner energy now and into the future. Chevron's Core Venture Fund invests in technologies with the potential to add efficiencies to Chevron's core business in the areas of operational enhancement, digitalisation and lower-carbon operations.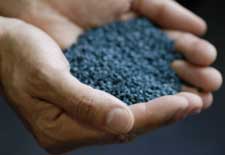 In other news, France-based Carbios, a company pioneering new enzymatic solutions to reinvent the lifecycle of plastic and textile polymers, announced the official opening and launch of an industrial demonstration plant operating with its enzymatic recycling technology, C-ZYME, which was installed on the Cataroux site in Clermont-Ferrand.
The demonstration plant marks the culmination of the development of the C-ZYME technology. It will allow the validation of the enzymatic PET recycling process' technical, environmental, and economic performance, as well as the design of future industrial units. By the end of 2022, its operation will enable the complete engineering documents for the process (Process Design Package) to be drawn up for the building and operation of a 40,000-tonne/year capacity reference unit as well as future factories to be run under licensing agreements.
"For more than 10 years, we have been creating innovative solutions to rethink the end of life of plastics and textiles," said Jean-Claude Lumaret, Carbios' CEO. "This industrial demonstration plant fulfils the promises of our enzymatic recycling process, C-ZYME. The continuous cycle of recycling PET waste is one step closer to becoming a reality!"
"The demonstration plant includes a 20m3 depolymerization reactor capable of processing 2 tonnes of PET per cycle, which is the equivalent of 100,000 bottles. This is a watershed moment, highlighting how this revolutionary process works on a large scale," added Lumaret.
The optimisation of the operating parameters as well as the production of the monomer batches are now carried out by a team of 10 people. An initial hydrolysis has been successfully realised, confirming the upscaling of the process.
The C-ZYME recycling process uses an enzyme capable of depolymerising PET, which is found in a variety of plastic and textile items. The depolymerised monomers are purified before being repolymerised into PET of comparable quality to virgin PET derived from petrochemicals. Unlike traditional methods, Carbios' breakthrough enables unlimited recycling of all sorts of PET waste (clear, coloured, opaque, complex plastics, polyester textiles) as well as the production of 100% recycled and 100% recyclable PET goods that maintain their virgin quality throughout the process.
(PRA)
---
Subscribe to Get the Latest Updates from PRA Please click here
©2021 Plastics and Rubber Asia. All rights reserved.

©2020 Plastics and Rubber Asia. All rights reserved.
Home
Terms & Conditions
Privacy Policy
Webmail
Site Map
About Us
SOCIAL MEDIA