Green materials: Lummus sets up business for circular economy; SK Innovation produces petchems from plastic waste

Process technology licensor firm Lummus Technology has formed a new business entity called Green Circle LLC, to concentrate and expand its capabilities and capture new opportunities in the energy transition and circular economy. Lummus says it intends to process solid wastes containing plastics, process various renewable bio-based feedstocks to value-added chemicals, polymers and fuels, and for the business to focus on decarbonisation of refinery and petrochemicals assets.
Green Circle will build on Lummus' role as a licensor of process technology for the refining and petrochemicals industries. The business will leverage the experience gained in designing and integrating plants with modern olefins production facilities, to deliver technology that converts a wide range of end-of-life plastics derived from solid waste to value-added fuels or circular polymers for a true plastics-to-plastics formula.
Multiple options for lowering the carbon footprint of existing facilities will be provided, including through the production of renewable fuels, bio-based chemicals and polymers; technology for CO2 capture, utilisation and storage; and sustainable hydrogen production.
"Lummus has always been at the forefront of technology development in our industry and through this new business we double down on our strategic intent to strengthen our leadership position in the circular economy and help drive the energy transition," said Leon de Bruyn, President/CEO of Lummus Technology. "Through Green Circle, we will apply our unique technology expertise and innovative culture to accelerate our ability to scale-up and commercialise sustainable solutions that reinvent our industry."
The new business will focus on cooperating with technology developers in these areas and serve Lummus' long-standing customers looking to develop a comprehensive roadmap of sustainable process solutions for their investments.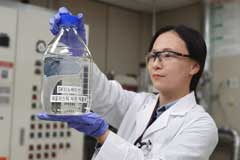 Meanwhile in other news, South Korean chemical firm SK Innovation Co says it has been successful in making a prototype of a chemical product by using pyrolysis oil obtained by decomposing waste plastic at high temperatures.
The company succeeded in manufacturing chemical prototypes such as solvents and lube base oils on a trial scale by greatly reducing the impurities of pyrolysis oil extracted from waste plastics.
A solvent is a chemical product that can be used for multiple purposes such as in cleaners and paint thinners, while pyrolysis oil is a key ingredient that determines the quality of lube base oils.
The company expects the newly-manufactured solvent to be differentiated from existing products thanks to its high paraffin content and low odour.
The lube base oil also has properties suitable for making the highest quality base oil.
"We need to improve our constitution to become a differentiated business from environmental and social responsibility perspectives, by transforming an industry facing questions over environmental practices into a wholly new business." said Na Kyung-soo, CEO of SK Global Chemical Co. which is managing the project.
(PRA)
---
Subscribe to Get the Latest Updates from PRA Please click here
©2020 Plastics and Rubber Asia. All rights reserved.
©2020 Plastics and Rubber Asia. All rights reserved.
Home
Terms & Conditions
Privacy Policy
Webmail
Site Map
About Us
SOCIAL MEDIA