Tie-ups: Itochu/Borealis to push uptake of rPP in Japan; Cargill, Virent to work on biobased fuels and chemicals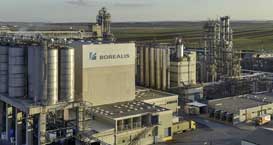 Borealis, Borouge and Itochu will jointly evaluate how to enable uptake of renewable polypropylene (PP) in the Japanese market, against the back of the country's plan to introduce approximately 2 million tonnes of renewable plastic products by 2030.
Chemical firm Borealis has embarked on the commercial production of renewable PP and is now working to expand sales in Europe and around the world.
The renewable PP is made from sustainable feedstock from organic waste and residue streams. Unlike using feedstocks produced with agricultural crops suitable for food and livestock feed, this renewable feedstock is composed of various wastes and residues like from vegetable oil production or used cooking oil from the food industry. Re-using waste products to manufacture renewable feedstocks further enhances their appeal from a sustainability perspective.
Borealis subsidiary Borouge provides plastics solutions for the packaging, energy, infrastructure, mobility, healthcare and agriculture industries. Borouge is working to bring about a plastics circular economy on several fronts, including developing new disruptive packaging designs for re-use and recyclability, and introducing mono-material solutions that enable recyclability and help to unlock value for customers while supporting their sustainability goals.
Itochu is targeting to commercially launch Japan's first food containers and packaging materials made of renewable PP by the end of 2020 as well as other sanitary goods, miscellaneous daily goods, cosmetic containers, office supplies, home electric appliances, automotive parts and other items in many different fields.

Meanwhile, in other news, to explore the production of biobased fuels and chemicals, US firm Cargill has tied up with bioenergy firm Virent to evaluate the use of Cargill's corn dextrose as a feedstock to Virent's BioForming technology for the production of "drop-in" low-carbon biofuels and biochemicals.
Virent's BioForming technology uses sugars found in plants as a feedstock to produce drop-in renewable gasoline and jet fuel, as well as lower carbon biochemicals, including bio-paraxylene, a key raw material for producing 100% renewable and recyclable biopolyester. The sugars may originate from any plant source, including first generation crops such as corn, sugar cane and sugar beets, as well as lignocellulosic materials derived from wood, corn stover, bagasse and other sources.
"We are working to scale up the BioForming process and are very pleased to announce our work with Cargill to study the availability of corn dextrose as a feedstock," said Dave Kettner, President of Virent. "We believe US corn dextrose is an attractive feedstock for our process and expect this study to demonstrate how U.S. corn dextrose can be used for broader applications to produce renewable gasoline, jet fuel and biobased chemicals. Establishing the Virent BioForming process as a viable opportunity for producing jet fuel and renewable gasoline as a complement to ethanol will not only open new markets for corn but expand the greater opportunities for both renewable fuels and chemicals."
Upon completion of the study, Virent will use the findings to evaluate options for scale-up and the development of a first commercial plant utilising the BioForming technology. The long-term objective is to use commercially available feedstocks today as a bridge to next-generation lignocellulosic feedstocks in the future.
(PRA)
---
Subscribe to Get the Latest Updates from PRA Please click here
©2020 Plastics and Rubber Asia. All rights reserved.
©2020 Plastics and Rubber Asia. All rights reserved.
Home
Terms & Conditions
Privacy Policy
Webmail
Site Map
About Us
SOCIAL MEDIA