M&As: Evonik sells stake in Synoste to Globus Medical; Piovan acquires Doteco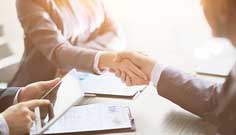 German Evonik Venture Capital has sold its stake in Finnish medical technology firm Synoste Oy to Globus Medical. Evonik says its four-and-a-half-year partnership with the Finnish start-up was beneficial to both companies, supporting the development of Synoste's technology for orthopedics and giving Evonik further insights into the medical applications market for its high-performance polymers. US-based Globus Medical acquired all shares. For Evonik the sale represents an attractive financial return on the initial investment. Terms were not disclosed.
"The partnership between Evonik and Synoste bore fruit both strategically and financially and is a great example of why we invest in start-ups," said Bernhard Mohr, head of Evonik Venture Capital. "We are now pleased to hand over to Globus, confident that it is the right owner to support Synoste's further development."
Synoste, based in Espoo, Finland, developed a high-tech implant for a minimally invasive treatment of leg length discrepancy, which can lead to chronic back pain and osteoarthritis in the long term. The bone of the shorter leg is lengthened in a gentle way over a period of several months. The Evonik material used in the implant is a high-performance polymer called polyetheretherketone, or PEEK. The material is biocompatible - not harmful or toxic to living tissue – and has excellent mechanical properties. For the patient the implant represents easier treatment with less pain and lower risk compared to previously established methods.
"The cooperation was very successful with Evonik supporting us in the development of our products and the growth of the company as a whole," said Harri Hallila, managing director of Synoste.
Since Evonik Venture Capital's first investment in Synoste in December 2015, Evonik's High Performance Polymer business line has worked with the start-up to develop the best design for the implant, in which PEEK encases the electronics of the remotely controlled lengthening device.
"The deeper understanding of requirements for medical devices and of the regulatory approval process will help us with future projects," said Marc Knebel, head of Medical Systems at the High Performance Polymers business line. "We are excited about other potential medical applications for PEEK, which has the ideal properties to replace ever more metal implants."
Globus Medical, based in Audubon, Pennsylvania, US, is a leading medical device manufacturer. The company was founded in 2003 with the goal of improving the quality of life for patients with musculoskeletal disorders, which are injuries and disorders that affect the human body's movement or musculoskeletal system such as bones, muscles, tendons and ligaments.
In other news, auxiliary equipment supplier Piovan Group has acquired 100% shareholding in Doteco Spa. The latter firm has since 1994 manufactured blending and control systems for extrusion of plastic films, sheets and synthetic fibres. Terms were not disclosed.
Operating in the plastics industry for more than 50 years, Piovan is a provider of auxiliary systems for the automation of production processes for the storage, transport and treatment of polymers and plastic and food powders. With more than 1,000 employees, the group has eight production plants, 31 service and sales companies and distributors, guaranteeing its presence in 70 countries.
Piovan says, thanks to the combination of the respective technological capabilities and know-how, the purchase of Doteco will allow Doteco to expand its market in the dosing and extrusion control system segment.
(PRA)
---
Subscribe to Get the Latest Updates from PRA Please click here
©2020 Plastics and Rubber Asia. All rights reserved.
©2020 Plastics and Rubber Asia. All rights reserved.
Home
Terms & Conditions
Privacy Policy
Webmail
Site Map
About Us
SOCIAL MEDIA