LyondellBasell takes stake in Sasol US unit for US$2b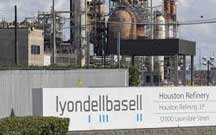 Chemical company LyondellBasell Industries is to acquire a 50% stake in a US-based unit of South African petrochemicals firm Sasol for US$2 billion, which will allow Sasol to reduce its net debt. LyondellBasell has said its 50% acquisition will include Sasol's 1.5 million tonne-steam cracker, 0.9 million tonne-low and linear-low density polyethylene plants and associated infrastructure. The agreement includes customary rights for each partner regarding the potential future sale of its ownership interest.
As part of the agreement, the two companies will form a 50/50 joint venture, which will operate under the name Louisiana Integrated PolyEthylene and take over the base chemicals business at Lake Charles. LyondellBasell will be the operator of the new jv firm.
The Lake Charles project consists of seven manufacturing units and Sasol said it will retain full ownership of the US performance chemicals business, which includes the Lake Charles R&D complex, Lake Charles East Plant ethane cracker and assets in Lake Charles that produce Ziegler alcohols and alumina, ethoxylates, Guerbet alcohols, paraffins, comonomers, linear alkyl benzene, ethylene oxide and ethylene glycol. Sasol says the US performance chemicals business is a key part of its future direction, consistent with the strategy to increase focus on specialty chemicals where it enjoys differentiated capabilities and strong market positions.
The world's top manufacturer of motor fuel from coal has been battling high debt amid lower oil and chemicals prices, prompting it to search for a partner at the Louisiana-based plant and propose a rights issue of up to US$2 billion in 2021.
The company's total debt stood at US$11.35 billion for the year to June 30, exacerbated by years of delay and cost overruns of around US$4 billion compared to early estimates in building LCCP (Lake Charles Chemical Project), prompting the resignations of its joint chief executives in 2019.
The value of the assets was US$3.9 billion and recorded a loss of US$2.3 billion for the year ended June 30, Sasol said.
Sasol said it expected the transaction, subject to shareholder approval, to be completed before the end of the year.
"This investment represents a unique opportunity to bring together the best of both companies and create deep, long-term value while immediately realising the many benefits of new, strategically-located, world-scale assets," said Bob Patel, CEO of LyondellBasell. "This approach is consistent with our strategy of investing in high quality assets that meet our threshold for value creation, while also maintaining our investment grade rating and commitment to our dividend. The transaction is expected to be accretive to both cash flow and EPS within one year with significant upside as market conditions continue to improve."
"We are very pleased to have LyondellBasell join us as a key partner in our US Base Chemicals Business in Lake Charles. LyondellBasell is the ideal partner to ensure the success of these world-class assets with its deep expertise in commodity chemicals," said Fleetwood Grobler, President/CEO, Sasol.
(PRA)
---
Subscribe to Get the Latest Updates from PRA Please click here
©2020 Plastics and Rubber Asia. All rights reserved.
©2020 Plastics and Rubber Asia. All rights reserved.
Home
Terms & Conditions
Privacy Policy
Webmail
Site Map
About Us
SOCIAL MEDIA