Plants: BASF expands coatings additives in China; BASF/Petronas jv to close butanediol plant in Malaysia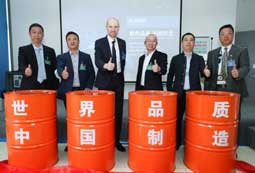 German chemicals firm BASF has increased its production capacity for advanced additives at its wholly-owned site in Nanjing, China. The new asset will allow BASF to produce high molecular weight dispersing agents, slip and levelling agents and other additives locally for Asian markets.
"The demand for additives in Asia Pacific is growing fast. It is important to have advanced production facilities in the region to support this development. Our investments in Asia Pacific will continue to strengthen our technical capabilities to better support our customers and grow with them together," said Dr. Claus Dallner, Vice President of Global Business Management Performance & Formulation Additives, BASF.
"This expansion demonstrates our swift response to the growing market demand. Our customers will benefit from our enhanced local presence, operational efficiency and supply reliability," said Dr. Stephan Kothrade, President and Chairman Greater China, BASF.
Strategically located in the logistic hub, this new facility will enable BASF to serve customers across end-use industries, including coatings, adhesives, printings, and composites. Along with shortened delivery time, this expansion will also help customers and suppliers reduce carbon emissions and ease logistics arrangements.
The BASF Nanjing site has been in operation since 2013, producing additives for customers across Asia. It is a zero liquid discharge site which produces off-gas emissions that comply with increasingly stringent environmental regulations in China.
In other news, BASF Petronas Chemicals Sdn Bhd (BPC), a joint venture between BASF and Malaysian state-owned Petronas Chemicals Group Bhd (PCG), will close down its butanediol (BDO) and derivatives plant in Kuantan, Malaysia, next year. The closure will take effect in March 2021, but will not impact other plants within the facility, says the firm.
Marko Murtonen, Managing Director of BASF Petronas Chemicals, added: "This decision is also a result of significant overcapacities in the region due to recent investments into new coal-based BDO production sites. BPC is reaching out to all customers to support a smooth transition and we will continue to serve our customers in the region with other products from BPC. In addition, BPC will work closely and provide assistance to our impacted employees in this transition period," said BDO and its derivatives are essential chemical materials for the production of engineering plastics, polyurethanes, solvents and elastic spandex fibres.
"As one of the leading companies in the business with BDO and derivatives, we are committed to continuous development in the BDO value chain. The recent measure is part of our strategy to ensure that we further improve our competitiveness in the markets where we add long-term value to both our customers' businesses and to BASF, as well as BPC," said Vasilios Galanos, senior vice president, Intermediates Asia Pacific, BASF.
PCG Managing Director/CEO Datuk Sazali Hamzah said the decision to close the BDO plant will have long-term strategic benefits to BPC and its stakeholders, given the shift in business landscape as well as its unfavourable long-term prospect.
BPC is a joint-venture company between BASF (60%) and PCG (40%) for the propylene and butane derivatives plant in Gebeng, Pahang.
BPC's BDO business started operations in 2004. It manufactures and sells butanediol, tetrahydrofuran and gamma-butyrolactone, which are versatile intermediates used in the chemicals industry.
(PRA)
---
Subscribe to Get the Latest Updates from PRA Please click here
©2020 Plastics and Rubber Asia. All rights reserved.
©2020 Plastics and Rubber Asia. All rights reserved.
Home
Terms & Conditions
Privacy Policy
Webmail
Site Map
About Us
SOCIAL MEDIA