Green materials: Braskem/Haldor Topsoe's demo-scale output of biobased MEG; Michelin/Pyrowave team up for waste recycling of styrene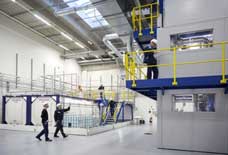 Brazilian petchem firm Braskem and Denmark-based catalysts supplier Haldor Topsoe say that they have achieved their first-ever demo-scale production of biobased monoethylene glycol (MEG). As a result of the collaboration between the two companies, the MOSAIK technology development has been progressing according to schedule at the demonstration unit located in Lyngby, Denmark, since it was started up in 2019.
The demonstration unit demonstrates all key design features of the pioneering technology that transforms sugar into renewable MEG. Since then, the remaining process units of the plant have been built and put into operation, and the production process has been optimised.
MEG is a raw material for PET (polyethylene terephthalate), which has numerous applications and is an essential feedstock in sectors such as textiles and packaging, especially beverage bottles. Currently, MEG is predominantly made from fossil-based feedstocks, such as naphtha, gas, or coal. The global MEG market represents a value of approximately US$ 25 billion.
The technology will also co-produce, in a lower quantity, monopropylene glycol (MPG), which has a wide variety of applications ranging from unsaturated polyester resins (UPR), commonly used in construction materials, to cosmetic products.
The next phase will involve providing samples to strategic partners for testing and validation. The results of the demonstration plant operations and the validation of products will be essential for the decision to deploy the technology on a commercial scale.
The development of bio-MEG is strategic to Braskem. "This first-ever production of MOSAIK-MEG is a major step forward in our project and underlines Braskem's commitment to the Circular Economy through renewable chemicals. This technology has the potential to revolutionise the PET market. That's why we are increasingly closer to start building this new value chain, so we can deliver the sustainable solution that society is looking for", says Gustavo Sergi, executive officer of Renewable Chemicals and Specialties at Braskem.
"We are extremely pleased to have achieved the first production of bio-based MEG together with Braskem. Topsoe's strategic vision is to deliver technologies to reduce or even eliminate carbon emissions from the production of fuels and chemicals. Advancing technologies to produce bio-based chemicals and making them a commercially attractive option is an essential step on the way to a more sustainable future," says Kim Knudsen, Chief Strategy & Innovation Officer at Haldor Topsoe.

Meanwhile in other news, French tyre maker Michelin Group and Canadian plastics recycling start-up Pyrowave have joined forces to accelerate time-to-market for a waste recovery technology developed by Pyrowave for commercially reusable styrene. The joint development agreement, which will ultimately account for an investment of more than EUR20 million, will combine Pyrowave's expertise with Michelin's industrial know-how.
The purpose of the technology is also to increase the rate of sustainable materials not only in Michelin tyres, but also in other industries.
Through Pyrowave technology's it is possible to generate recycled styrene from plastics found in packaging, insulation panels and/or household appliances. This recycled styrene is an important monomer is used in the production of polystyrene and synthetic rubber for tyres and a large number of consumer products.
The scientific breakthrough behind Pyrowave technology helps recycle plastics using microwaves. Unlike current thermal processes, this unique technology enables the recycling of plastic waste into raw materials using electricity – the energy form currently providing the highest decarbonation potential. It also provides higher yields, while being more accurate than conventional technologies, to replace virgin raw materials from oil and gas.
The joint development agreement between Pyrowave and Michelin will result in the implementation of new value chains in the circular plastics economy. Redesigning new packaging or manufacturing new products from recycled plastics in the automotive, electronics or tyre sectors will become possible.
The two companies say they will work together in the coming months to fast‑track the industrialisation of Pyrowave technology with a view to a certification and commercial roll-out in international markets.
In order to fast‑track the validation of the technology and the certification of its products, Michelin's technical teams will work with their Pyrowave's counterparts to develop an industrial demonstrator, funded and operated by Michelin, by 2023.
After a year of evaluation, Michelin was able to see the process in operation and test samples of recycled styrene in the composition of its tyres. This polymer regeneration process is fully in line with Michelin Group's strategic vision and its product sustainability objectives.
(PRA)
---
Subscribe to Get the Latest Updates from PRA Please click here
©2020 Plastics and Rubber Asia. All rights reserved.
©2020 Plastics and Rubber Asia. All rights reserved.
Home
Terms & Conditions
Privacy Policy
Webmail
Site Map
About Us
SOCIAL MEDIA