Green tie-ups: Axens/Toray Films to build PET recycling plant in France; Borealis/Reclay in jv for recycling lighweight packaging
Technology firm Axens and Toray Films Europe are collaborating to study the feasibility of a PET chemical recycling facility at Toray Films Europe production site in Saint-Maurice-de-Beynost (Ain, France). New units based on Axens' Rewind PET technology will be coupled with Toray Films Europe's existing polymerisation plant in order to recycle 80,000 tonnes/year of difficult-to-recycle PET plastic waste.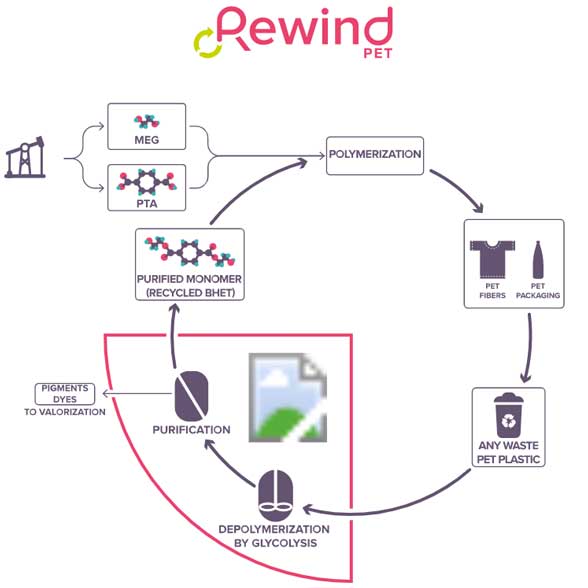 Post consumers PET plastic waste that cannot be mechanically recycled and are currently down-cycled, incinerated or landfilled, will be converted into high-quality Circular PET chips, closing the loop for this material with potentially infinite recycling.
Rewind PET process, developed by IFP Energies nouvelles, Axens and JEPLAN, involves an optimised glycolysis-based PET depolymerisation combined with specific purification steps aiming at removing all organic and inorganic compounds present in waste PET, including colorants and pigments. The product is a purified BHET (BHET: Bis(2-HydroxyEthyl) Terephthalate) monomer.
BHET monomer will then be processed in Toray Films Europe existing continuous polymerization plant to produce up to 100% recycled transparent food contact PET for films, fibre and bottles applications.
The project is currently in its engineering phase, and targets start-up of the first Rewind PET train leading to an annual production of 30,000 tonnes of recycled PET, by the end of 2025 (phase 1). With the addition of a second Rewind PET train by the end of the decade, the polymerisation plant will be used at full capacity to produce 100% recycled PET (phase 2). This investment will create additional direct and indirect jobs at and in relation with Saint-Maurice-de-Beynost industrial site, benefitting from ideal existing infrastructures, in particular for the waste feedstock supply.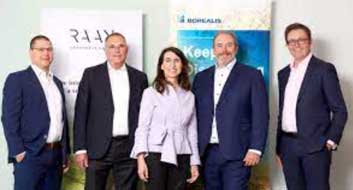 Meanwhile, in other news, polyolefins supplier Borealis and material recovery management firm Reclay Group have set up a joint venture, Recelerate GmbH, to focus on improving sorting of post-consumer lightweight plastic packaging (LWP) for recycling, reuse in circular plastics production.
Recelerate will play a critical connector role in the plastic value chain, connecting downstream and upstream expertise to rethink how LWP waste is managed, sorted, processed, and recycled. The new entity will be powered by Reclay Group's strength in the area of extended producer responsibility schemes (EPR) and Borealis' focus on growth of a more circular plastic model, powered in part by its proprietary recycling technology Borcycle.
This combination will enable a macro view approach to identify opportunities to add value and invest where it matters, to ensure more and more plastic waste from LWP is able to stay within the value chain.
For Reclay, Recelerate will help grow the reach, scale and impact of EPR; for Borealis, it will open up supply of post-consumer plastic waste to be recycled with its Borcycle recycling technology; for customers and consumers, it means greater access to high quality recycled materials. Recelerate will connect critical partners in the plastic value chain; closing the gap, and accelerating the growth and scaling of circular plastics.
"In line with our integrated approach toward more circular plastics, Recelerate will enable significant progress in waste feedstock optimisation. Together with our partners, we are committed to reinventing the plastics system for more sustainable living," explains Lucrèce Foufopoulos, Borealis Executive Vice President Polyolefins, Innovation & Technology and Circular Economy Solutions.
"We're excited to begin Recelerate's journey to unlock greater plastic circularity through rethinking and reshaping sorting and recycling", says Raffael A. Fruscio, Owner and Managing Director of the Reclay Group. "This is an important moment to build on existing strengths and get some momentum in creating smart, successful, sustainable models that more and more businesses, regions and communities can benefit from. Together we will ensure that valuable material is kept in the cycle".
(PRA)
---
Subscribe to Get the Latest Updates from PRA Please click here
©2022 Plastics and Rubber Asia. All rights reserved.

©2022 Plastics and Rubber Asia. All rights reserved.
Home
Terms & Conditions
Privacy Policy
Webmail
Site Map
About Us
SOCIAL MEDIA