Expansions: BASF/Sinopec jv breaks ground on Chinese tert-butyl acrylate plant; AGC to expand capacity of chlor-alkali in Thailand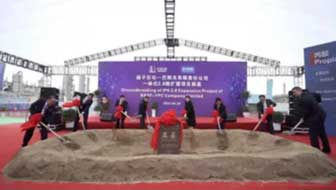 German chemical firm BASF and Sinopec's 50:50 joint venture BASF-YPC Co. is expanding in Nanjing including new capacities of several downstream chemical plants and a new tert-butyl acrylate plant, to serve the growing demand from various industries in the Chinese market.
The partners will expand the production capacities of propionic acid, propionic aldehyde, ethyleneamines, ethanolamines and purified ethylene oxide, and build a new tert-butyl acrylate plant. The tert-butyl acrylate plant will be an extension to the downstream using acrylic acid and isobutene of the existing Verbund as feedstock, which marks the first time this advanced production technology is applied outside of Germany. The expanded and new plants are planned to come on stream by the end of 2023.
"We will deploy the state-of-the-art technologies to build the new facilities at the BASF-YPC, which allows us to gain competitive edge in the dynamic Chinese market," said Dr. Jeffrey Lou, President/Chairman Greater China, BASF. "More importantly, it strongly demonstrates the joint commitments by BASF and Sinopec to promote sustainable development in China's chemical industry."
"The domestic petrochemical industry is in high-quality development. With the support of all involved parties, we will implement the expansion project on the first-class standards," said Yuefeng Gu, Chairman of Sinopec Yangzi Petrochemical Company Limited and BASF-YPC Company Limited. "The advanced modern petrochemical site will promote the transformation and upgrading of the petrochemical industry and make greater contributions to local economic and sustainable development."
Propionic acid (PA) is used as a mould inhibitor for the preservation of food and feed grains. It offers strong economic and ecological benefits over preservation through drying or storage in air-tight silos. It is also used in the production of pharmaceuticals, crop protection agents and solvents.
Ethyleneamines (EEA) and Ethanolamines (EOA) are intermediates used in the manufacture of crop protection agents, surfactants for personal and home care products, process chemicals for gas treatment, lubricants and cement additives, paper chemicals, and active pharmaceutical ingredients.
Propionic aldehyde (PALD) is an intermediate used as key raw material for propionic acid and n-propanol production. It is mainly used in the manufacture of pharmaceuticals, insecticides, fragrances and plastics.
Purified ethylene oxide (PEO) is a raw material for industrial applications and is often used in synthesis processes of chemical industry. It is used in the manufacturing of ethanolamines, glycol ethers and surfactants for washing and cleaning agents.
Tert-butyl acrylate (TBA) is an acrylic acid ester for manufacturing polymers and is used as a feedstock for syntheses. As a specialty chemical it is used in paper sizing and emulsion applications.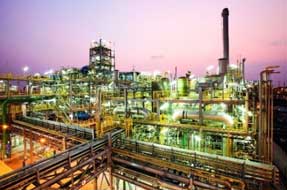 In other news, Japanese chemical firm AGC says it has decided to increase the production capacity of AGC Vinythai Public Company (to be established in July 2022), a new company to integrate AGC's chlor-alkali business in Thailand. The capacity increase is planned at two manufacturing sites in Thailand, and the start of operation is scheduled for 1Q 2025. The total investment is expected to exceed 100 billion yen, making it the largest investment ever made by the AGC Group.
With this expansion, AGC's production capacity of chlor-alkali products in Southeast Asia will increase to 1.64 million tonnes/year of caustic soda (currently 1.42 million tonnes), 1.7 million tonnes of vinyl chloride monomer (VCM) (currently 1.3 million tonnes), and 1.6 million tonnes of polyvinyl chloride (PVC) (currently 1.2 million tonnes).
The Southeast Asian market for caustic soda and PVC is expected to grow at about 4% per year on the back of continued expansion in manufacturing and infrastructure projects in line with economic growth. In order to respond to this robust demand, AGC has been studying this expansion and has obtained approval for the environmental impact assessment by the Thai environmental regulatory authority and has now decided to make the investment.
In addition, this capacity expansion will introduce the latest technologies that will improve energy efficiency and production efficiency to reduce environmental impact, it adds.
The AGC Group aims to expand its chlor-alkali chemicals business in Southeast Asia as one of the priority businesses of the medium-term management plan. With the aim of steadily capturing the growing demand in the region and strengthening the group's competitiveness, AGC has increased production capacity at its existing base in Indonesia and acquired AGC Chemicals Vietnam Co., Ltd. and Vinythai Public Company Limited to solidify its leading position in the chlor-alkali business in Southeast Asia.
In July 2022, AGC plans to establish a new company to consolidate and reorganize its three chlor-alkali businesses, aiming to strengthen its foundation in the region and achieve further growth.
(PRA)
---
Subscribe to Get the Latest Updates from PRA Please click here
©2022 Plastics and Rubber Asia. All rights reserved.

©2022 Plastics and Rubber Asia. All rights reserved.
Home
Terms & Conditions
Privacy Policy
Webmail
Site Map
About Us
SOCIAL MEDIA