Pengerang inks US$100 bn off-take agreements with chemical/energy majors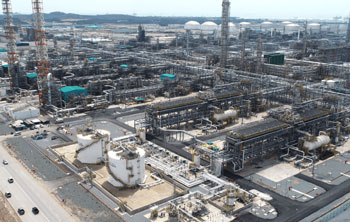 Malaysia's Pengerang Energy Complex Sdn Bhd says that it has signed key agreements with several blue-chip partners for the upcoming US$4.5 billion Pengerang Energy Complex (PEC), located within the dedicated Pengerang Integrated Petroleum Complex (PIPC) in Johor, Malaysia.
The strategic feedstock supply and product off-take agreement signings with leading energy majors Chevron and Equinor, Thai national oil company PTT, and marquee trading house Mitsui & Co are worth a combined total of US$102 billion and together will support the full needs of PEC for its initial 12 years of operation.
The 6.5 million metric tonnes/year facility is capable of processing 150,000 barrels per day (bpd) of condensate plus side feed of naphtha, that will in turn produce aromatics of 2.3 million tonnes/year, energy products output of 3.9 million tonnes/year and hydrogen output of 50,000 metric tonnes/year.The condensate splitter will produce heavy naphtha, a primary feedstock for the aromatics plant whereas the hydrogen produced is planned to be used to support development of downstream renewable fuels facilities in Johor.
Alwyn Bowden, CEO of Pengerang Energy Complex, said: "when it enters into operation in late 2026 the PEC Project will deliver the lowest carbon footprint per tonne of paraxylene produced of any such facility globally, thereby delivering Industry pacesetting benchmarks, and allowing PEC to 'start with the future'. It is against this background that we are especially pleased to successfully conclude negotiations on feedstock supply and off-take with our like-minded and forward-thinking partners, who together will form the cornerstone of PEC operations. These key agreement signings also signal the strong confidence that our various stakeholders have in the project and are set to be a catalyst for further exciting announcements and progress updates in the coming months."
PEC forecasts an annual export turnover of USD$5 billion, propelling Malaysia further up the value chain in the petrochemical sector. With strong regional demand for fuels and downstream petrochemicals products, PEC's hydrogen output holds potential for further downstream investments which will enable green initiatives such as Sustainable Aviation Fuels (SAF), Biodiesel and other Biofuels.
PEC, which is being developed by ChemOne Group, a leading energy and petrochemicals project developer based in Singapore, along with its strategic partners, has been designed to optimise energy efficiency, minimise equipment requirements, and significantly reduce carbon footprint and has been developed in line with International Financial Corporation's (IFC) performance standards and Equator Principles 4.
Once completed, the US$4.5 billion PEC facility is set to be one of the largest as well as energy and resource efficient aromatics complexes in the world, according to the company.
Financing of PEC is expected to be concluded within the next quarter as per financing terms and schedule agreed with leading global export credit agencies (ECAs), with export guarantee facilities of around US$2.5 billion anticipated to be available to support the project.
(PRA)
---
Subscribe to Get the Latest Updates from PRA Please click here
©2023 Plastics and Rubber Asia. All rights reserved.

©2023 Plastics and Rubber Asia. All rights reserved.
Home
Terms & Conditions
Privacy Policy
Webmail
Site Map
About Us
SOCIAL MEDIA