INTERFOAM Vietnam 2023 to showcase advancements in Southeast Asia's foam industry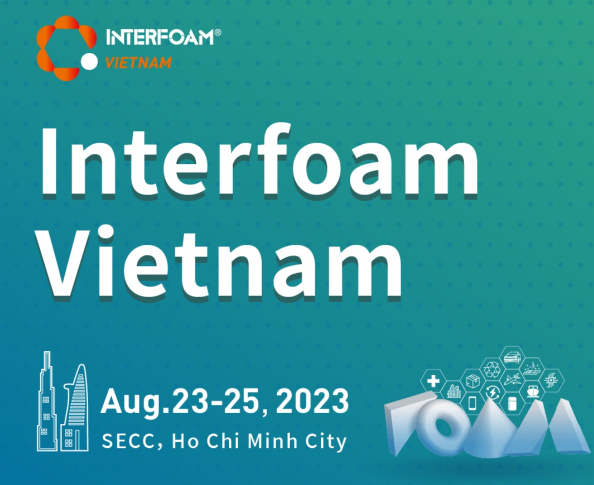 Interfoam Vietnam 2023, which will be held on August 23-25 in Ho Chi Minh City, is one of Interfoam's branding shows focusing on Southeast Asia. It is the best option for global foam enterprises to invest in and develop the Southeast Asian market.
A leading platform for the entire foam industry, Interfoam features exhibitions, virtual shows, conferences, media, the Interfoam Award, expert talks, and more. By continuously generating long-term value for the foam industry, Interfoam leads the field in sustainable development, application innovation, and technological change.
Over 6,000 attendees and more than 120 exhibitors are anticipated at the event, which will have an exhibition space of 5,000 square meters.
The scope of the exhibition will include Polymer Foams and Products, Metal Foams and Products, Other Foams and Products, Raw Materials, Foaming Agents (physical foaming agent, chemical foaming agent) and Foaming auxiliary, Foaming Equipment, Cutting Equipment, Auxiliary Equipment, Testing Equipment, Recycling Equipment and Technology, Environmental Protection Equipment, Adhesives and Sealants, Films and Tapes, and more.
Visitors and guests will hail from a diverse range of sectors, including, Foam Manufacturing and Processing Enterprises, Foams Vertical Application Industries: Automotive, Rail Traffic, Aerospace, Packaging, Sports & Leisure, Furniture, Household Supplies, Security, Healthcare, Electronic Equipment, Building Materials, HVAC, Electrical Appliances, Cold Chain & Logistics, Industry, Energy, Shipping, Daily Necessities, Communication Devices, Office Facilities, Military Supplies, Professional Associations, Scientific Research Institutions, Media, and more.
Three important activities you can't miss!
"Redefine Foams" - The 3rd Foams and Applications International Forum
2 Days 24 Topics 500+ Attendance
Based on the last forum's theme—"Redefine Foams", this forum willdiscuss the advancement and development of foams as well as their vertical applications from the perspectives of sustainable development, academic research, technological innovation, and new applications. We will create a positive exchange platform for enterprises, universities, and research institutes, which will cover about 24 topics and be held on-line and off-line simultaneously.
Go here for more information: https://interfoamvietnam.com/en/index/Events/Redefine-Foams-Forum
Vietnam Investment Environment Seminar
Interfoam Vietnam Investment Environment Seminar is fully supported by Ho Chi Minh Municipal Government and local business associations. This seminar aims to share professional industry information, such as Vietnam's preferential policies, the process and procedures for setting up factories in Vietnam, so as to help investors improve the efficiency of enterprise landing and help promote high-quality industrial parks.
Go here for more information: https://interfoamvietnam.com/en/index/Events/Vietnam-Investment-Environment-Seminar
F2F Connecting
F2F Connecting is a high-value face-to-face meeting between exhibitors and visitors which will be matched and scheduled before the show opening. We help the customers to promote new partnerships and potential business opportunities, and ensure the efficient and professional participation for both exhibitors and visitors.
Go here for more information: https://interfoamvietnam.com/en/index/Events/F2F-Connecting-visitor
For more details about Interfoam Vietnam 2023, visit the website at https://interfoamvietnam.com/en/
You may also email wenting.zhang@hjtexpo.com | Contact by telephone at +86 10 58677998
(PRA)
---
Subscribe to Get the Latest Updates from PRA Please click here
©2023 Plastics and Rubber Asia. All rights reserved.

©2023 Plastics and Rubber Asia. All rights reserved.
Home
Terms & Conditions
Privacy Policy
Webmail
Site Map
About Us
SOCIAL MEDIA