ADVERTORIAL: Brush industry in the spotlight at the CIBRUSH 2023 exhibition in September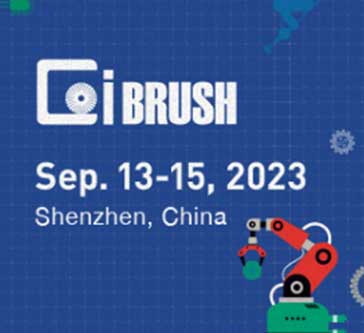 The largest brush industry exhibition in the world, the 3rd China International Brush Making Industry Exhibition (CIBRUSH 2023) is held biennially in Shanghai and Shenzhen. CIBRUSH 2023 is an international and professional brush industry exhibition organized by China Sundry Articles Industry Association and Beijing HJT International Exhibition Co, Ltd.
This year, CIBRUSH will return to Shenzhen World on September 13-15, 2023. The three-day show is expected to become a huge platform for more than 200 exhibitors, with an exhibition space of 20,000 sq m.
Top exhibitors will be present at the show including Borghi, Haixing Machinery,Dupont Filaments,BBC, Boucherie, Mingwang Filaments, Jusou Filaments, Cixi Jieda, All Joy, NIPB, Hoonga, Honyeu Machinery, LHT Filaments, KR Filaments, Xingda Filaments, Vastsky, Wolf Filaments, EBSER, Taihingnylon, Jinxiang Bristles, Chuangyan Technology, ChangeHow Machinery, Jingcheng Mould, Kaiyue Machinery and so on.
CIBRUSH 2023 is also expected to attract over 8,000 visitors from the brush manufacturing, brush application, and other industries, with 30% coming from overseas and 70% from Mainland China, Hong Kong, Macao, and Taiwan.
Meanwhile, the exhibition scope for CIBRUSH 2023 includes:
Technology, Equipment and Accessories - Fully automatic brush making machine, Tufting machine, Auxiliary equipment (Trimming machine, Filament end-rounding machine, Flagging machine, Labeling packaging machine and etc.), Paint brush/roller brush processing equipment, Twist wire machine, Mop processing equipment, Packaging machine, Cutting machine, Mane blending machine, Wooden handle processing equipment, Mould, filament extrusion equipment, Injection molding machine, Automation solutions, Accessories/Consumables, Others;
Raw Materials - Polymer filaments, Natural filaments, Metal filaments, Raw materials, Additives, Others; and Semi-finished Products & Finished Products, covering Industrial brush, Commercial cleaning, Coating tools, Household brush, Oral care, Cosmetic brush, Brushes for special industries, Paintbrush, Chinese writing brush, Others.
Contract Services -Professional Media/Business Associations/Scientific Research Institutions/ Government
Both show attendees and guests can enjoy a variety of activities and services tailored to their specific needs and expectations:
Pre-Connecting - is a customised service for professional visitors to find the right technologies, solutions, and procurement that match their needs before the exhibition. Pre-Connecting can only quickly meet the needs of exhibitors and visitors across time and space, as well as improve the quality and efficiency of face-to-face trust building between the two parties at the exhibition site, creating more opportunities.
F2F Connecting - a high-value face-to-face meeting between exhibitors and visitors, F2F Connecting will match and schedule them before the show opens. We assist customers in promoting new partnerships and potential business opportunities, and we ensure that both exhibitors and visitors participate in an efficient and professional manner.
The 3rd China Brush Making Industry International Forum - This forum will focus on the following topics, including "Challenges and opportunities for the global brush industry after the COVID-19 pandemic"; "Development and innovation of brush making technology"; and "Innovation & sustainable development of filaments."
For more information, please visit the website at https://www.cibrush.com/en/
You may also email wenting.zhang@hjtexpo.com | Contact by telephone at +86 10 58677998
(PRA)
---
Subscribe to Get the Latest Updates from PRA Please click here
©2023 Plastics and Rubber Asia. All rights reserved.

©2023 Plastics and Rubber Asia. All rights reserved.
Home
Terms & Conditions
Privacy Policy
Webmail
Site Map
About Us
SOCIAL MEDIA