Recycling: TotalEnergies/Honeywell to promote advanced recycling; Denka/Toyo Styrene to build chemical recycling plant for PS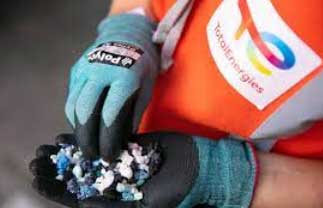 TotalEnergies and Honeywell are to promote the development of advanced plastic recycling. Under this agreement, Honeywell will agree to supply TotalEnergies with Recycled Polymer Feedstock (RPF) using Honeywell's UpCycle Process Technology at the recently announced Honeywell and Sacyr advanced recycling plant, intended to be built in Andalucía, Spain. TotalEnergies will purchase and convert this raw material into virgin-quality polymers, which could be used for food-grade packaging and other high demanding applications.
The UpCycle plant, which will be owned by a joint venture between Honeywell and Sacyr, is planned to process and convert yearly 30,000 tonnes of mixed plastic waste into RFP, that may otherwise be destined for landfill or incineration. The projected start-up of the UpCycle plant is expected in 2023, with RPF to be used for the manufacturing of high-quality polymers in TotalEnergies' European-based production units. With identical properties to virgin polymers, the recycled polymers are expected to be suitable for a wide range of applications including food-grade applications, such as flexible and rigid food packaging containers.
This first planned project represents the start of the collaboration between TotalEnergies and Honeywell in the field of advanced recycling. Both parties are committed to addressing the issue of plastic waste and helping to build a more circular and sustainable economy in Europe, and the rest of the world.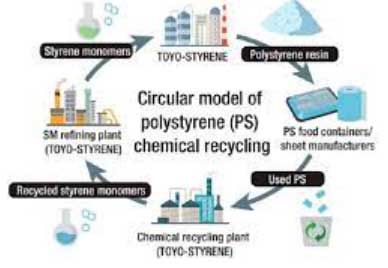 Meanwhile in other news, Japanese compatriots Denka Company and Toyo Styrene Co have decided to construct a chemical recycling plant for used polystyrene (PS) with a processing capacity of approx. 3,000 tonnes/year. The plant will be constructed on the premises of Denka's Chiba Plant (Ichihara, Chiba) and the plan is for it to begin operating in the second half of FY2023. The investment in the project is around US$33 million.
Under a technical license agreement concluded with Agilyx in the US, which has commercialised chemical recycling plants converting used polystyrene to styrene monomer, for the first time in the world, Toyo Styrene will construct a chemical recycling plant and start a business collecting post-industrial materials from users. In addition, Denka plans to participate in a platform integrating citizens, companies, and governments into the Creation of a Circular Economy Starting with Ichihara-shi project conducted by Ichihara-shi in Chiba prefecture, an SDGs Future City.
(PRA)
---
Subscribe to Get the Latest Updates from PRA Please click here
©2022 Plastics and Rubber Asia. All rights reserved.

©2022 Plastics and Rubber Asia. All rights reserved.
Home
Terms & Conditions
Privacy Policy
Webmail
Site Map
About Us
SOCIAL MEDIA