Green materials: Evonik's first renewable isophorone-based products; Ineos Styrolution's bio-attributed styrenics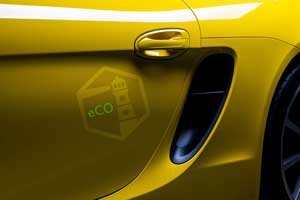 Since inventing isophorone chemistry during its search for new ways to reuse acetone, German materials firm Evonik says it has continued to develop a variety of isophorone-based products at its plants across the globe. Now, 60 years later Evonik has made another important breakthrough for the chemical industry: the world's first sustainable isophorone products made from 100% renewable acetone.
By using renewable acetone Evonik is now offering isophorone- based products with significantly lower CO2 footprint across all stages of the isophorone production chain. The new eCO products are available under the Evonik Crosslinkers brands of Vestasol IP eCO for isophorone, Vestamin IPD eCO for isophorone diamine, and Vestanat IPDI eCO for isophorone diisocyanate. Further downstream products will be launched in line with future market demand.
Chemically identical to their fossil-based counterparts, Evonik's new eCO series products have the same characteristics in terms of processing, formulation, and performance. In comparison to conventional isophorone products the new eCO products can help the industry to significantly reduce its Global Warming Potential (GWP) and CO2 footprint. For example, Vestanat IPDI eCO contains 75% renewable carbon per mass balance.
'Mass Balance' is an accounting principle that matches inputs with outputs from production process. Accounting ensures that sustainable end products match to the amount of renewable acetone purchased. The entire processes will be audited and certified by an independent body, namely the internationally recognised ISCC and REDCert standards to verify the use of renewable resources across all stages of production.
Based on strict bookkeeping and external auditing, the mass balance approach allows Evonik to adopt large-scale production and provide cost-effective solutions for its customers, while keeping track of each renewable molecule used.
Due to their mechanical strength, durability, chemical resistance, adhesion and low CO2 emissions, the new Vesta eCO grades are designed to be used as sustainable raw materials in the production of paints, lacquers and binders for modern coating systems. They are also suitable for high-performance composite materials like rotor blades for wind turbines or in automotive interiors to produce instrument panels and trims as well as the latest chemical synthesis technologies.
Meanwhile in other news, styrenics maker Ineos Styrolution has introduced NAS ECO and Luran ECO sustainable drop-in solutions based on a mass balance process certified by ISCC PLUS. The products are based on styrene being produced using renewable feedstock that is not in competition with food production, such as kitchen waste and wood waste.
The carbon footprint reduction for the new products varies between 77% and 99% when compared to the respective fossil-based products, depending on the amount of renewable feedstock used to produce a material.
The new materials, Luran ECO and NAS ECO, have identical physical and mechanical properties as their fossil-based counterparts Luran and NAS, enabling a direct replacement for customers seeking to step up their sustainability efforts.
Eike Jahnke, Vice President Specialties EMEA, comments: "These new solutions expand our portfolio of mass balance based specialty styrenics products. Together with our previously introduced Styrolux ECO and Styroflex ECO families, we can now offer our customers sustainable drop-in solutions for four of our specialty product families."
Production of the new materials will be in Ludwigshafen, Germany.
Luran is a styrene acrylonitrile copolymer (SAN) featuring a well-balanced property profile ranging from good transparency and chemical resistance to high stiffness, heat resistance as well as good dimensional stability. These make them a material of choice for a variety of household and cosmetics packaging applications.
NAS is a stiff, amorphous styrene methyl methacrylate (SMMA) copolymer for demanding applications requiring excellent transparency such as water tanks, displays, food containers or boxes. It features water-clear appearance, low haze as well as a thermal and chemical resistance. The optical properties of NAS are on a similar level as PMMA, while NAS has a density and processing advantage compared to acrylic solutions.
(PRA)
---
Subscribe to Get the Latest Updates from PRA Please click here
©2022 Plastics and Rubber Asia. All rights reserved.

©2022 Plastics and Rubber Asia. All rights reserved.
Home
Terms & Conditions
Privacy Policy
Webmail
Site Map
About Us
SOCIAL MEDIA