Green materials: Carbios/Indorama to build EUR150 mn fully bio-recycled PET plant in France; LG Chem/Korea University to develop eco-friendly materials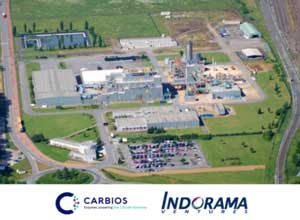 Biotech firm Carbios and Thai PET integrated firm Indorama Ventures are to build a 50,000 tonne/year-manufacturing plant operating Carbios' PET bio-recycling technology at Indorama Ventures' PET production site in France (Longlaville, Meurthe-et-Moselle).
After having successfully started-up its demonstration plant in Clermont-Ferrand, Carbios is now moving one step further towards the industrialisation and commercialisation by partnering with Indorama Ventures. The goal is to build and operate in France the world's first industrial-scale enzymatic PET bio-recycling plant, with a processing capacity estimated at ca. 50,000 tonnes/year of post-consumer PET waste, equivalent to 2 billion PET bottles or 2.5 billion PET trays.
After the positive results of Indorama Ventures' initial analysis on the technical soundness of Carbios' technology over the past several months, both parties agreed to complete a due diligence process. A feasibility study will be conducted for the industrialisation of Carbios' technology on Indorama Ventures' French production site. Subject to the successful completion of these technical and economical evaluations, Indorama Ventures would co-invest in the project.
The capital investment required for the project is expected to be around EUR150 million for Carbios core technology, including in particular an additional purification step, which has been integrated into the process. In addition, an estimated EUR50 million investment will be allocated for the infrastructure preparation of the site. The project is expected to create approximatively 150 direct and indirect full-time jobs. In the coming months, Carbios expects to finalise a strong non-dilutive financial support from French Government and from the Grand-Est Region, based on the offer received by Carbios, from the Minister of Industry, Agnès Pannier-Runacher and the President of Grand-Est Region, Jean Rottner.
This financial support will be conditional on the notification to the European Commission and on contractualisation by French authorities. Carbios announced in its half-year results on the 30th September 2021 a cash position of EUR112 million. Since then, Carbios has also secured a EUR30 million loan from EIB.
With its world-first enzyme-based biological process, Carbios' technology, named C-ZYME, converts PET (the dominant polymer in bottles, trays and textiles made of polyester) into its core monomers, which can then be used to manufacture 100% recycled and infinitely recyclable PET. This first-of-a-kind manufacturing plant combines Carbios' science and technology with Indorama Ventures' manufacturing capabilities. This collaboration will meet the growing needs of both demanding consumers and large consumer goods companies including Carbios' partners and shareholders (L'Oréal, Michelin, L'Occitane, Nestlé Waters, PepsiCo, Suntory Beverage & Food Europe) for more sustainable packaging.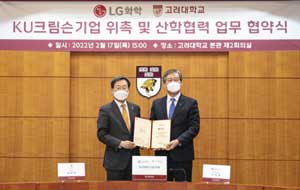 Meanwhile in other news, South Korean chemical firm LG Chem and Korea University are to collaborate in developing eco-friendly materials technology. In particular, the research will focus on securing eco-friendly source technologies such as plastic materials capable of natural decomposition in the ocean by using natural materials.
To do so, both sides will establish the LG Chem-Korea University Eco-Friendly Materials Industry-Academic Cooperation Centre under College of Engineering, Korea University. Along with R&D exchange sessions and mutual advisory activities, they will further promote a customised training support programs to nurture talents such as selecting industry-academic scholars.
President Chung of Korea University, said, "Through the establishment of our industry-academic cooperation centre, I look forward to continuing progressive exchanges between the two entities and hope the centre will serve as an opportunity for mutual development."
CEO Shin of LG Chem said, "LG Chem will spare no efforts in supporting eco-friendly materials research and training talents to develop a sustainable technology that innovates our customers' lives."
(PRA)
---
Subscribe to Get the Latest Updates from PRA Please click here
©2022 Plastics and Rubber Asia. All rights reserved.

©2022 Plastics and Rubber Asia. All rights reserved.
Home
Terms & Conditions
Privacy Policy
Webmail
Site Map
About Us
SOCIAL MEDIA