Thermoplastic Elastomer: TPEs offer flexibility for a variety of industries
KRAIBURG TPE, a global TPE manufacturer of a wide range of TPE products and custom solutions for multiple industries, offers TPEs that cater to the surfing equipment industry, medical/healthcare sector, beauty product/pet accessory applications, golfing equipment and consumer food packaging
Making waves in surfing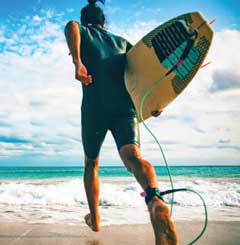 A perfect day for surfers consists of warm sunshine, calm waters, and an off-shore breeze. However, choosing the right board for surfing is crucial and thermoplastic elastomers (TPEs) have a variety of properties that make it ideal for use in sports and leisure equipment.
KRABURG TPE offers its AD/PAX/CR series that is resistant to skin oils, sunscreen, and olive oils, making it ideal for surfboard applications as well as leashes, foot rings, paddle handles, sealing, and other sports equipment parts
The compound is a solution for two-component seals with good adhesion to nylons such as PA12, PA6 and PA6.6, partially aromatic polyamides (PAX), and polyarylamides (PARA) via the injection moulding process.
Meanwhile, the VS/AD/HM series provides smooth riding without the hiccups of scratches or grease. The compound series provides the answer to velvety surfaces and the need for wear resistance.
Surfboard pads, fins, earplugs, GPS waterproof covers, and other parts are viable applications for this series. Furthermore, abrasion and scratch resistance are important properties for surfing equipment that must withstand harsh extreme environmental conditions and the sea water.
TPEs unleash benefits for pet accessories
The pet care market is rapidly expanding as pet ownership increases, as does spending on pet food, grooming tools, and accessories. Pet owners prioritise hygiene and wellness when purchasing products for their pets, setting the stage for manufacturers to provide products made of high-quality, food-safe materials.
Among the many advanced materials used in product offerings, TPEs have emerged as the best of these breed. They can be used to make pet accessories such as pet toys, bowls, collars, leash handles, training equipment and grooming tools.
KRAIBURG TPE offers TPEs that comply with Regulation (EU) No 10/2011, US FDA CFR 21 (raw material conformity), China GB4806-2016, and EN71-3. Besides being food-safe, the TPEs meet DIN EN 71-3, REACH, SVHC and RoHS standards.
The THERMOLAST K FC/AD/PP series does not contain latex and toxic substances such as heavy metals, phthalates, and bisphenol A, guaranteeing pet owners safe accessories for their pets.
Furthermore, it has excellent adhesion to PP, optimised flow properties, and can be processed by injection moulding and extrusion, giving designers more design freedom.
The FC/AD/PP series allows for soft touch surfaces with good haptics that are suitable for use on grip applications such as leash handles, pet collars, and other accessories such as pets feeding bowls, toothbrushes, and toys.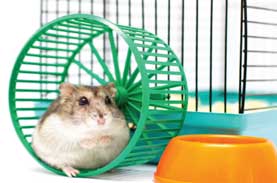 Meanwhile, the hysteresis property of THERMOLAST K FC/HE/tl makes it ideal for pet chewing toys, as it aids in the preservation of the original shapes after extended use. These translucent compounds, which adhere well to PP and PE, can also be coloured in a variety of ways.
Beauty products with soft-touch TPEs
KRAIBURG TPE offers the FC/ht series and VS/AD/HM series compounds for industry- compliant beauty tool applications.
The FC/ht series provides the required functionality and design elements for massage brush handles, grips, and hairbrush bristles. The compounds offer a soft-touch surface and are available in clear colour with a variety of effects and colouring options. The FC/ht series is also halogen-free, IEC 61249-2-21 compliant, and free of animal ingredients. Plus, it adheres well to PP, allowing for flexibility in the designing of beauty products.
Meanwhile, the VS/AD/HM series is resistant to skin sebum, sunscreen, and olive oil, making it ideal for use in skin-contact tools and parts such as electronic face massage brush handles and electronic ionic hairbrush grips.
Advantages of the VS/AD/HM series are its high scratch and abrasion resistance as well as soft-touch characteristics for application on buttons, switches, thumb wheels and other functional design elements.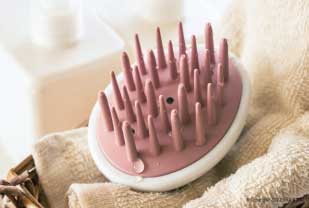 The compounds are available in natural and black colours, with pre-colouring options. They can adhere with PA6, PA12, PC, ABS, PC/ABS, ASA, and SAN materials, making them a favourable material for use in beauty products.
TPEs allow for winning colours in medical applications During a medical emergency, colour codes are used to enable medical personnel to respond quickly and decisively. Colours are also used to determine the status of medical devices and to aid identifying the equipment that is being used, which is especially important in a busy medical environment.
Medical device designers and manufacturers can rely on advanced materials such as TPEs to create industry-standard and safety-compliant designs.
KRAIBURG TPE provides TPE materials with an array of colour options that are widely used in medical devices such as nebulisers, glucose meters, forehead thermometers, blood pressure monitors, and on electrical device parts such as connectors, mouthpieces, valves, and buttons. They are also used in pharmaceutical packaging such as lid closures, valves, seals and gaskets, and other similar parts.
As well, KRAIBURG TPE prioritises customer needs for quality, safety, and reliability by providing colourable TPEs to enhance the devices' appearance and design. These include smart wearable products to home care medical devices like health-oriented smart watches, wireless glucometers, and wireless blood pressure testers.
Furthermore, KRAIBURG TPE's in-house colouring team can provide the precise shade of colours and quickly distribute colour samples with exceptional delivery times for coloured compounds, and tested for worldwide-consistent colour quality
KRAIBURG TPE's medical grade THERMOLAST M series is available in translucent, transparent, and natural colours, along with high transparency and precolouring options. The compounds are VDI 2017 and ISO 10993-5 compliant, and they are also listed in the Drug Master File
The TPE series has excellent resealing properties and compression set, as well as low friction and high elasticity. It exhibits good adhesion with polyolefins (PP, PE, COC, COP) and technical thermoplastics like ABS, PC, PET-G, and polyamides through a multi-component injection moulding process.
In addition, KRAIBURG TPE's Medical Service Package guarantees optimum raw material purity and solid 24-month supply security. This compound series also assures optimum safety with excellent control management.
(PRA)
---
Subscribe to Get the Latest Updates from PRA Please click here
©2022 Plastics and Rubber Asia. All rights reserved.

©2022 Plastics and Rubber Asia. All rights reserved.
Home
Terms & Conditions
Privacy Policy
Webmail
Site Map
About Us
SOCIAL MEDIA